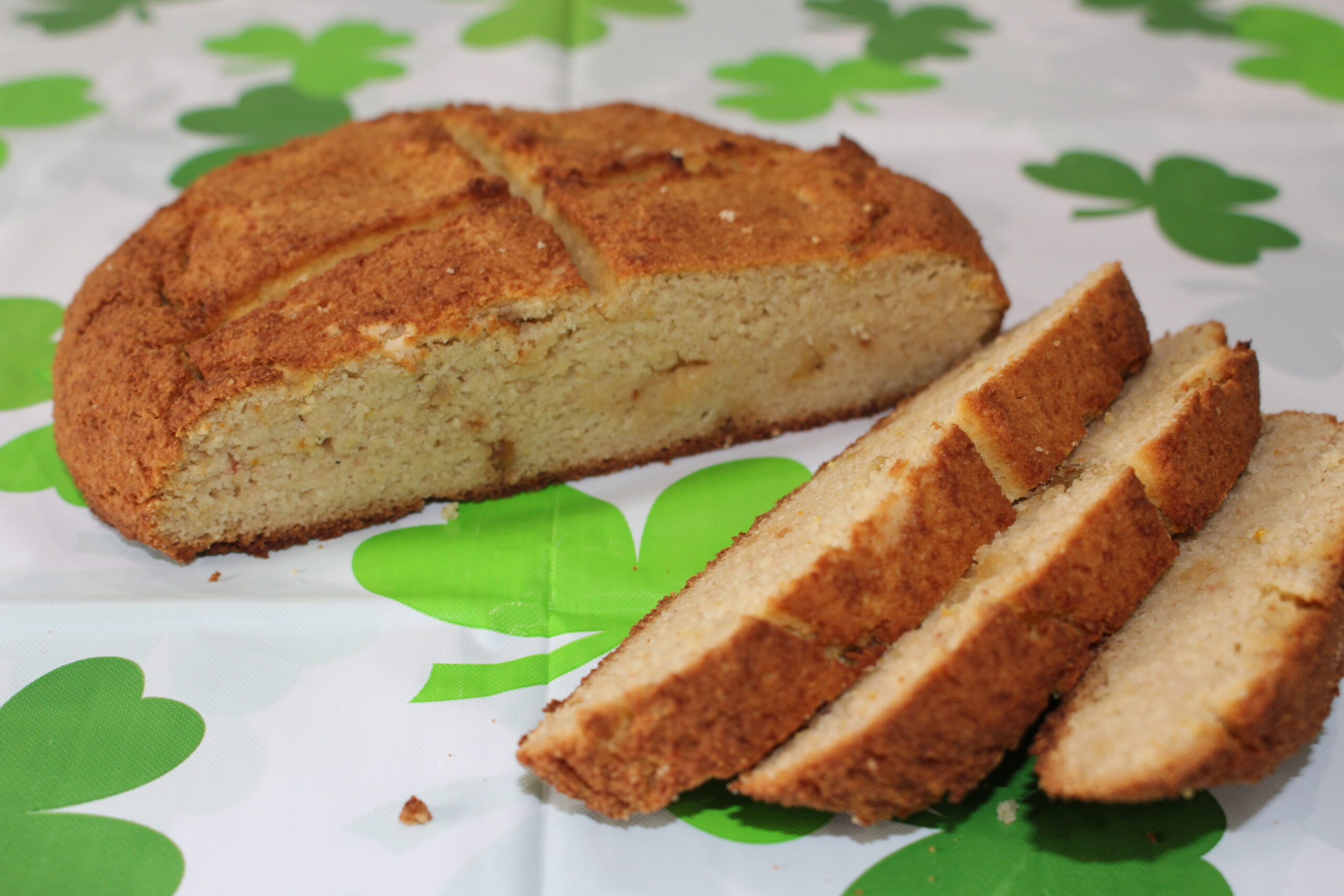 Traditional Irish soda bread resembles more of a scone than a bread since it doesn't contain any yeast. Similarly, this Irish soda bread is moist, dense, and lightly sweet. It's delicious, slathered in softened salted butter, or spread with jam for breakfast. It's also a great accompaniment to more savory dishes such as soups and stews.
Yield: 10 slices
Serving size: 1 slice
Ingredients:
1 cup super fine almond flour
3 tbsp. cold unsalted butter
1/2 tsp. salt
1 tsp. baking soda
1 large egg
2 large egg whites
3 tbsp. buttermilk (may substitute with sour cream)
2 tbsp. heavy cream
1/4 cup coconut flour
3 1/2 tbsp. natural, non-GMO granular erythritol
1/2 tsp. orange zest
2 tsp. raisins, chopped (Omit the raisins, if you have diabetes)
Directions:
Preheat the oven to 350° F.
Line the bottom of a non-stick 8″ cake pan with parchment paper.
Place the almond flour and the butter into the bowl of a food processor fitted with a steel blade. Pulse until the butter and flour combine into a course meal.
Add the salt, baking soda, egg, egg whites, buttermilk, erythritol, and heavy cream. Pulse to combine. The batter will be very thin.
Add in the coconut flour, zest, and raisins. Pulse to combine thoroughly. Let the batter rest for 5 minutes to thicken up.
Place the batter into the center of the prepared cake pan in one mound. Use a rubber spatula to ensure you get all of it.
Use your hands to gently form the dough into a round loaf approximately 1 1/2″ high and 5″ in diameter.
Use a serrated knife to cut an x into the top of the bread.
Place the pan in the center of the preheated oven, and bake for about 30-35 minutes, until the bread is a deep golden brown and a toothpick inserted in the center comes out clean.
Place the pan on a cooling rack to cool for 10-15 minutes before removing the bread.
This bread is best served warm but may also be served at room temperature.