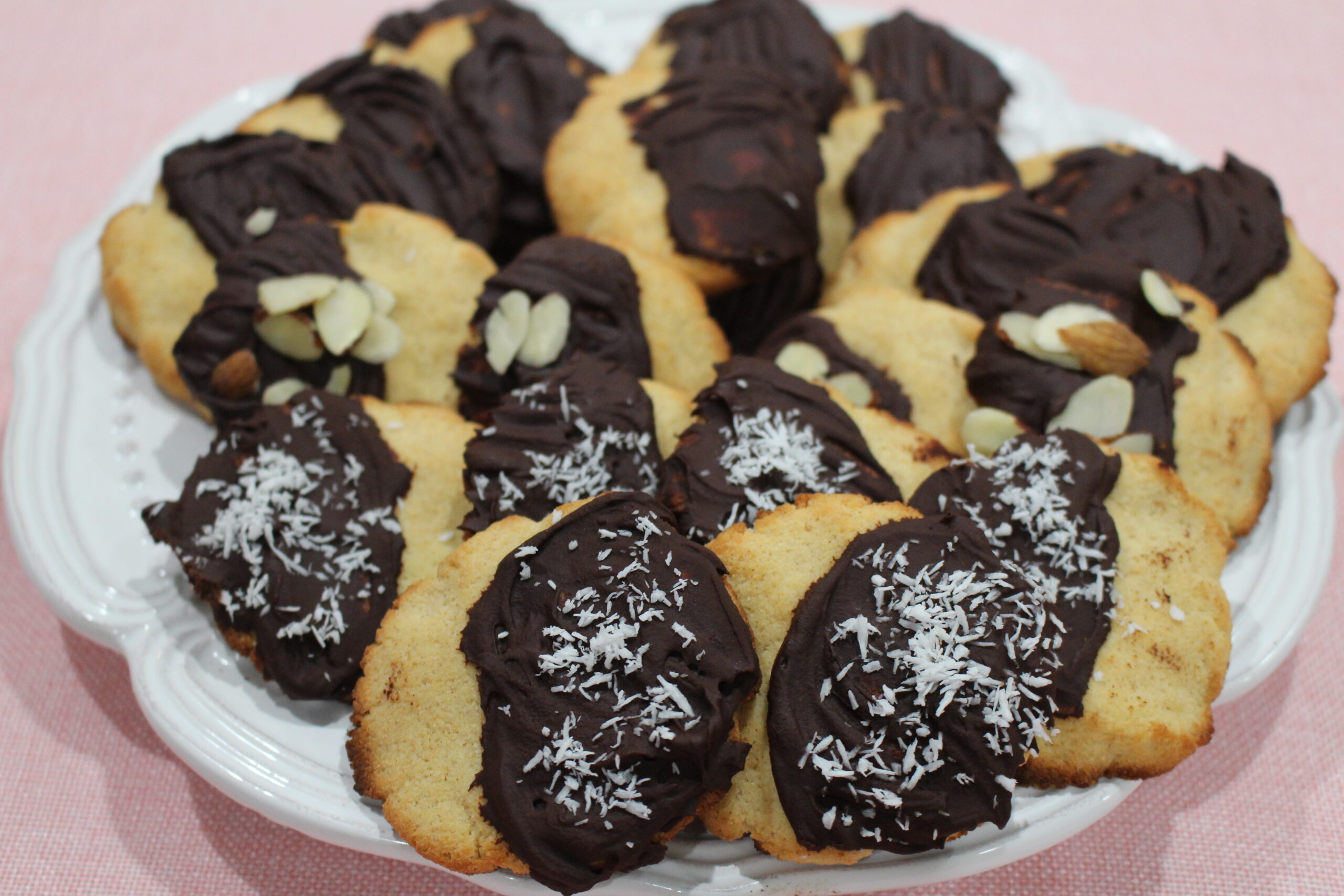 These elegant cookies are crisp, buttery, and tipped with chocolate. They're perfect for sharing with guests, but you may want to keep them for yourself.
Yields: 26 Cookies
Serving size: 1 cookie
Ingredients:
1 1/2 tbsp. pure vanilla extract
1/2 cup natural, non-GMO granulated erythritol
3/4 cup unsalted butter, softened
3 large eggs
1 cup coconut flour
1/2 tsp. baking powder
1/4 tsp. salt
3 oz 88% dark chocolate
1/4 cup heavy cream
2 tsp. extra virgin coconut oil
Directions:
Preheat your oven to 350° F.
Line a cookie sheet with parchment paper.
Using a sharp knife, chop up the chocolate into chip sized pieces. Place the chips in a small bowl, and set aside.
In a large bowl, using an electric hand mixer on medium-low speed, cream the butter, erythritol, and vanilla.
Add the eggs in 1 at a time, beating well after each addition.
Add in the coconut flour, baking powder, and salt. Beat well to combine.
Use a tablespoon to measure the dough, and roll it into balls. Lay them about 2″ apart on the prepared cookie sheet.
Use your fingertips to flatten each cookie to a thickness of about 1/4″.
Place the cookie sheet into the center of your preheated oven, and bake for 13-15 minutes, until the cookies are golden brown around the edges.
Let the cookies cool on the baking sheet for about 5 minutes, before using a metal spatula to gently remove them and place them on a wire rack to cool completely.
While the cookies are cooling, warm the cream and coconut oil in the microwave for about 10 seconds, until hot but not boiling.
Pour the hot cream mixture into the bowl with the chopped chocolate, and mix until smooth. If the chocolate doesn't melt all the way, place it in the microwave for another 10 seconds, and then mix until smooth.
When the cookies are completely cooled, they are ready to be tipped with chocolate. Scoop some chocolate onto a fork, and use the back of the fork to paint the chocolate in decorative swirls on half of each cookie.
Place each cookie back onto the cookie sheet as you finish coating them. If you like, you can sprinkle some almond slices, crushed nuts, or unsweetened shredded coconut over the wet chocolate.
Place the cookie sheet with the decorated cookies into the refrigerator or freezer until the chocolate has set.
Store the finished cookies in a covered container in the refrigerator.