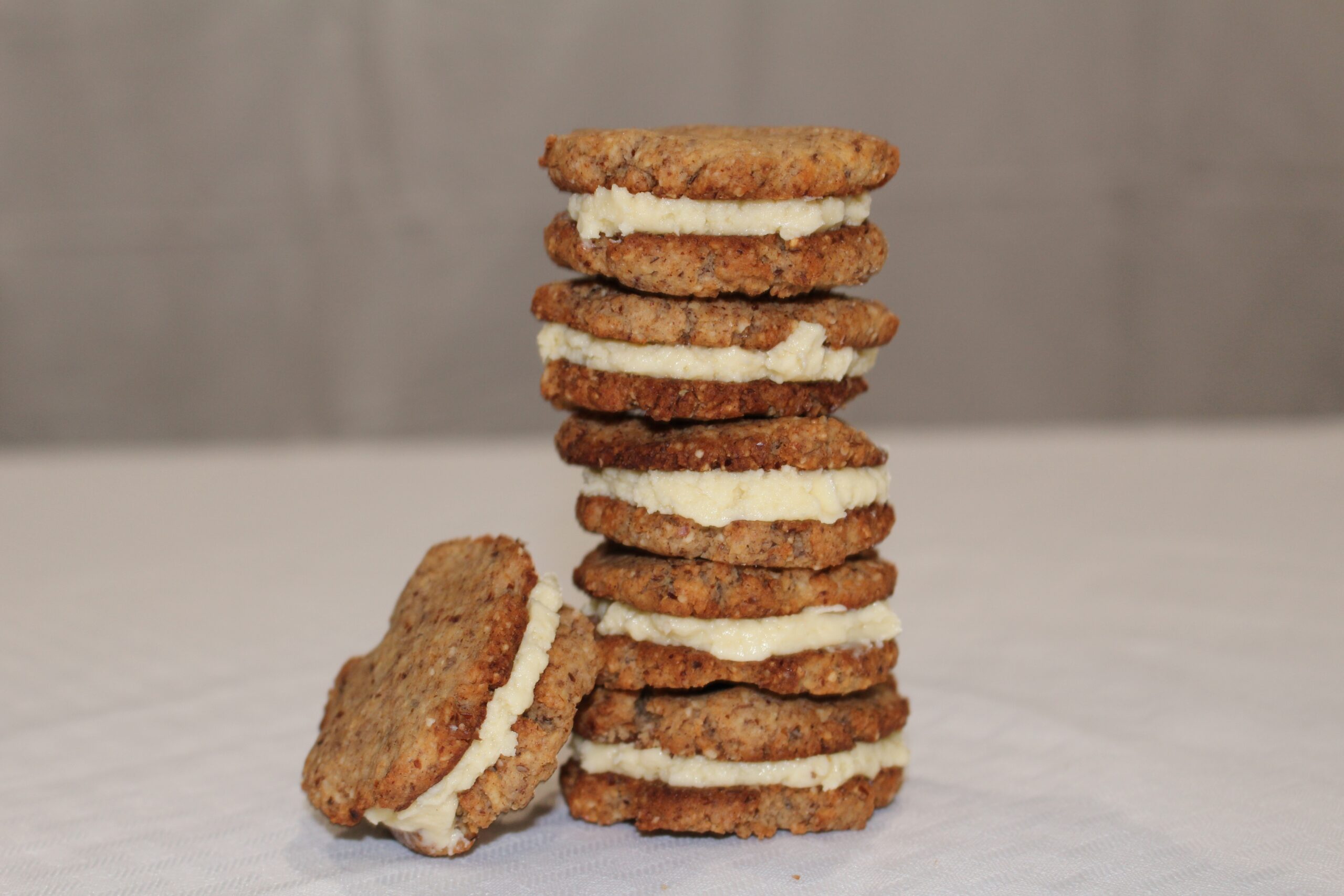 Crisp, rustic spice cookies, filled with sweet vanilla buttercream.
These delicious cookies were inspired by the old fashioned oatmeal cookies of my childhood. They are delicious on their own, but the addition of the buttercream filling takes an them to decadent new heights.
Yield: 22 sandwich cookies
Serving Size: 1 sandwich cookie
Ingredients for the cookies:
2 large eggs
1 tsp. pure vanilla extract
1 tbsp. coconut flour
2 tbsp. ground flaxseed meal
2 cups hazelnut flour
1/2 cup coconut butter, softened
1/2 cup natural, non-GMO granular erythritol
1.5 tsp. baking powder
1 tbsp. whole milk Greek yogurt
1 tsp. ground cinnamon
1/4 tsp. allspice
1/8 tsp. ground ginger
small pinch salt
Ingredients for the buttercream:
1 cup unsalted butter, softened
1 tbsp. pure vanilla extract
7 tbsp. natural, non-GMO powdered/confectioners erythritol
6 tbsp. heavy cream
Directions:
Preheat your oven to 350° F.
Line a cookie sheet with parchment paper.
Soften the entire opened jar of coconut butter for about 30 seconds to 1 minute in the microwave. Mix well.
In a large bowl, whisk the eggs, vanilla, and yogurt until smooth.
Add in 1/2 cup of coconut butter, and whisk again until smooth.
Add in the erythritol. Whisk once more to incorporate.
In another bowl, combine the coconut flour, hazelnut flour, flaxseed meal, baking powder, cinnamon, allspice, ginger, and a pinch of salt. Mix well.
Add the dry ingredients to the egg mixture. Using a fork, mix well to form the cookie dough.
Roll the dough into 1″ balls, and lay out on the prepared cookie sheet about 2″ apart. I use a melon baller to help keep the cookie size consistent.
Use your fingertips to flatten each cookie down to about 1/4″ each. If the cookies begin to stick to your fingertips, moisten your fingers with a little water.
Bake the cookie in the center of your preheated oven for 10-11 minutes, until the edges are golden brown.
Place the cookies on a rack to cool.
While the cookies are cooling, prepare the buttercream as follows:
Place the softened butter in a bowl with the vanilla. Use an electric hand mixer to beat until fluffy.
Add in the erythritol, and beat again to combine. Add in the heavy cream, and beat again.
To assemble the cookies: place a cookie topside down on a plate, and place approximately 1 tsp. of buttercream on the center of the cookie. Top with another cookie. Press down gently to evenly distribute the buttercream inside the sandwich.
Store the cookies and any leftover buttercream in covered containers, in the refrigerator.