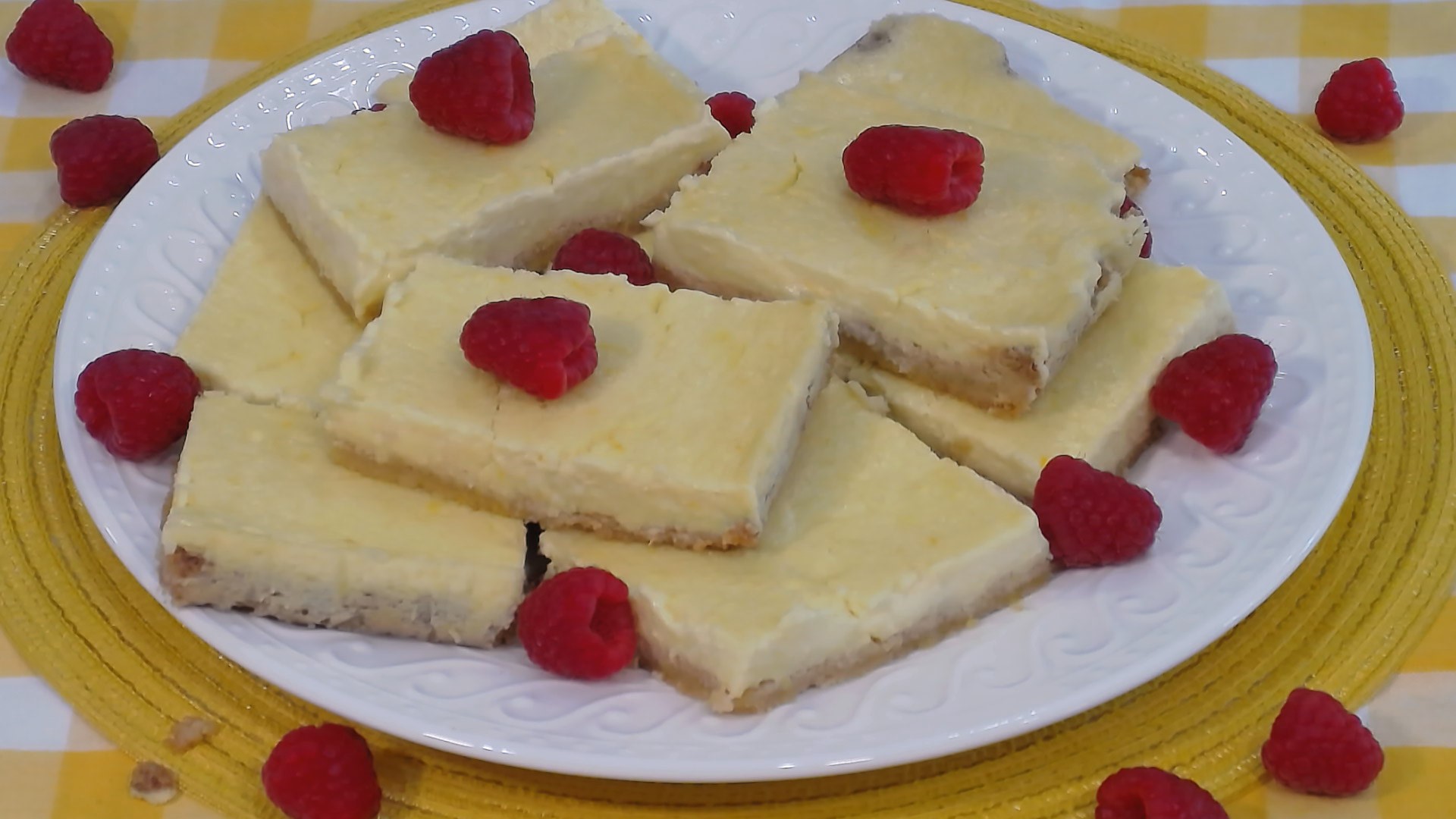 Yield: 16 large/32 smaller bars
Serving size: 1 large/2 smaller bars
These lemon bars are everything you could want in a lemon bar and more!
You'll love how the bright lemony flavor of the creamy filling pairs so beautifully with the taste of the delicious shortbread crust. This recipe makes plenty, so they'll always be enough to share with friends and family. Take a batch to your next get-together!
Serve them as they are, or feel free to decorate them with fresh berries!
Ingredients:
Directions:
Line a 14.5″x11″(36.83cm x 27.94cm) pan with parchment paper.
Preheat the oven to 350° F (180°C)
Add the almond flour and the granular erythritol to a bowl. Whisk well to break up any clumps and to combine.
Add the melted butter and the vanilla to the bowl, and mix well with a fork.
Spoon the mixture into the prepared pan.
Use a spoon flatten, and spread the mixture out; this will be the crust to the lemon bars.
Pay special attention to ensure enough crust is in the corners and around the edges of the pan. Finnish evening out the crust, and fill in any holes with your fingers.
Bake in the center of the preheated oven for 15-20 minutes, or until the crust is golden brown. Set aside for now.
Add the lemon zest, lemon juice, eggs, cream, and powdered erythritol to a large bowl. Use a handheld electric mixer to blend the egg mixture. This mixture will be the filling.
Pour the filling over the baked crust, and bake the entire thing for about 30 minutes at 350° F (180°C) until the filling has set.
Cool completely on a wire rack. Place the cooled lemon bars into the refrigerator to chill for at least two hours.
Once the lemon bars have chilled, remove them from refrigeration. Using your hands, lift up gently on the parchment paper to ensure the lemon bars will fully release from the pan.
Gripping the edge of the parchment paper with one hand and the pan in the other, gingerly slide the lemon bars out of the pan and onto a cutting board. Peel back the edges of the paper, and using a sharp knife, cut into 16 large or 32 smaller bars.
Serve plain or decorated with fresh berries. Enjoy!