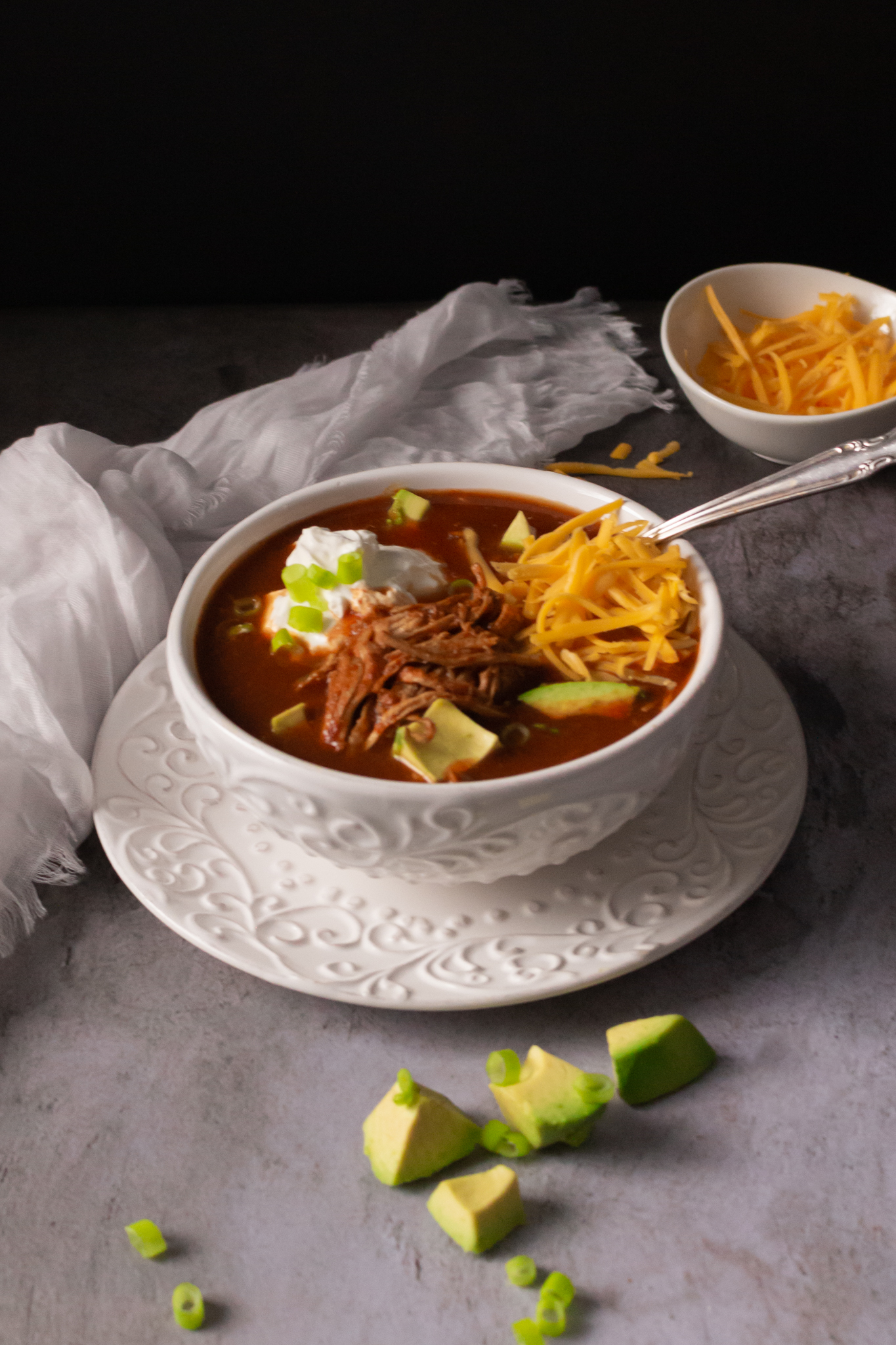 This soup is the epitome of simplicity and everything you love about chicken enchiladas in a bowl! With just the right amount of spicey heat, it's hot enough to delight your taste buds without melting your spoon! Try it topped with shredded cheddar cheese, sour cream, green onions, and avocado for a complete meal in a bowl. Serve with flourless tortillas on the side if you like.
Yield: 7 cups
Serving size: 1 cup
Ingredients:
1 1/2 lb. (680.39g) boneless, skinless chicken breast
4 cups (960g) unsalted chicken stock or broth
12 oz. (375g) tomato puree
2 tbsp. (30g) Ancho Chili powder
1 tbsp. (14.18g) smoked paprika
1 tbsp. (9.3g) garlic powder
2 tsp. (4g) ground cumin
1 1/2 tsp. (3.6g) onion powder
1 1/2 tsp. (9g) salt
1 tsp. dried 91g) oregano
1 tsp. (4g) granular erythritol
1/2 tsp. (1.3g) ground cinnamon
1/2 tsp. (0.5g) Chipotle powder
1/4 tsp. (0.58g) ground black pepper
Directions:
Place everything except the chicken into the bowl of a slow cooker. Mix well to incorporate. (The finished soup will be about a medium on the spiciness scale. If you like things hotter, add a bit more Chipotle powder. If you want your soup to be mild, add less or omit the Chipotle powder altogether.)
Add in the chicken. Place the lid onto the slow cooker and cook on high for three and a half hours.
After three and a half hours, turn off the slow cooker and transfer the chicken to a plate.
Using two forks, shred the chicken meat. Carefully return the shredded chicken back into the hot soup.
Serve hot with your favorite toppings.