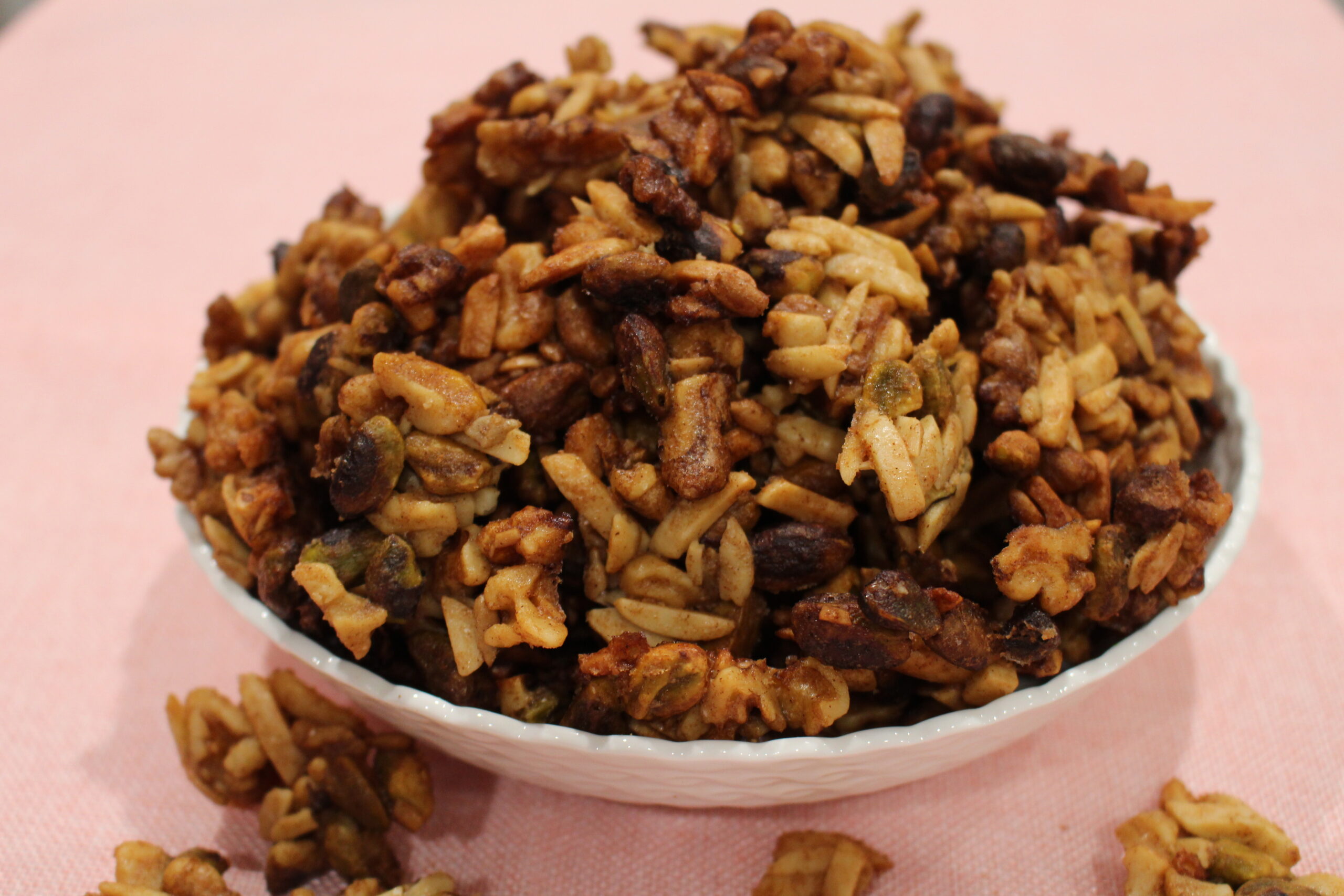 Crispy, crunchy, and lightly sweet, this granola is the perfect afternoon snack. It's also nice sprinkled on top of yogurt, cottage cheese, salads, or keto ice cream. Feel free to use your favorite nuts and seeds to make this granola. Just use the same total amount, and realize that the nutritional value may differ depending on your ingredients.
Yield: 4 1/4 cups
Serving size: 1/4 cup
Ingredients:
2 cups walnut pieces
1 cup unsalted pistachio kernels
1 cup almond slivers
1/4 cup unsalted sunflower seeds
1/2 cup + 1/8 cup natural, non-GMO granulated erythritol
1/2 tsp. ground cinnamon
1/2 tsp. salt
1/4 cup melted butter
2 tsp. vanilla extract
1/2 tsp. maple extract
1 large egg white
Directions:
Preheat the oven to 300° F.
Line 2 cookie sheets with parchment paper.
Mix the nuts, seeds, salt, cinnamon, and erythritol in a large bowl.
In a small, separate bowl, combine the melted butter, extracts, and egg white.
Add the egg white mixture to the nut mixture in the large bowl, and mix until well combined.
Divide the granola mixture evenly between the two cookie sheets, and spread it out into a single, even layer in each tray. Use the back of a metal spatula to press down and compact the granola.
Bake the granola on the center rack of the preheated oven for 16-20 minutes, or until golden brown. Rotate the pans once, midway through, to ensure even toasting.
Place the cookie sheets of granola onto cooling racks. Allow to cool completely, before breaking up the granola and transferring to an airtight container to store. Once the granola is completely cooled, you could also mix in chopped pieces of dark chocolate if you like.