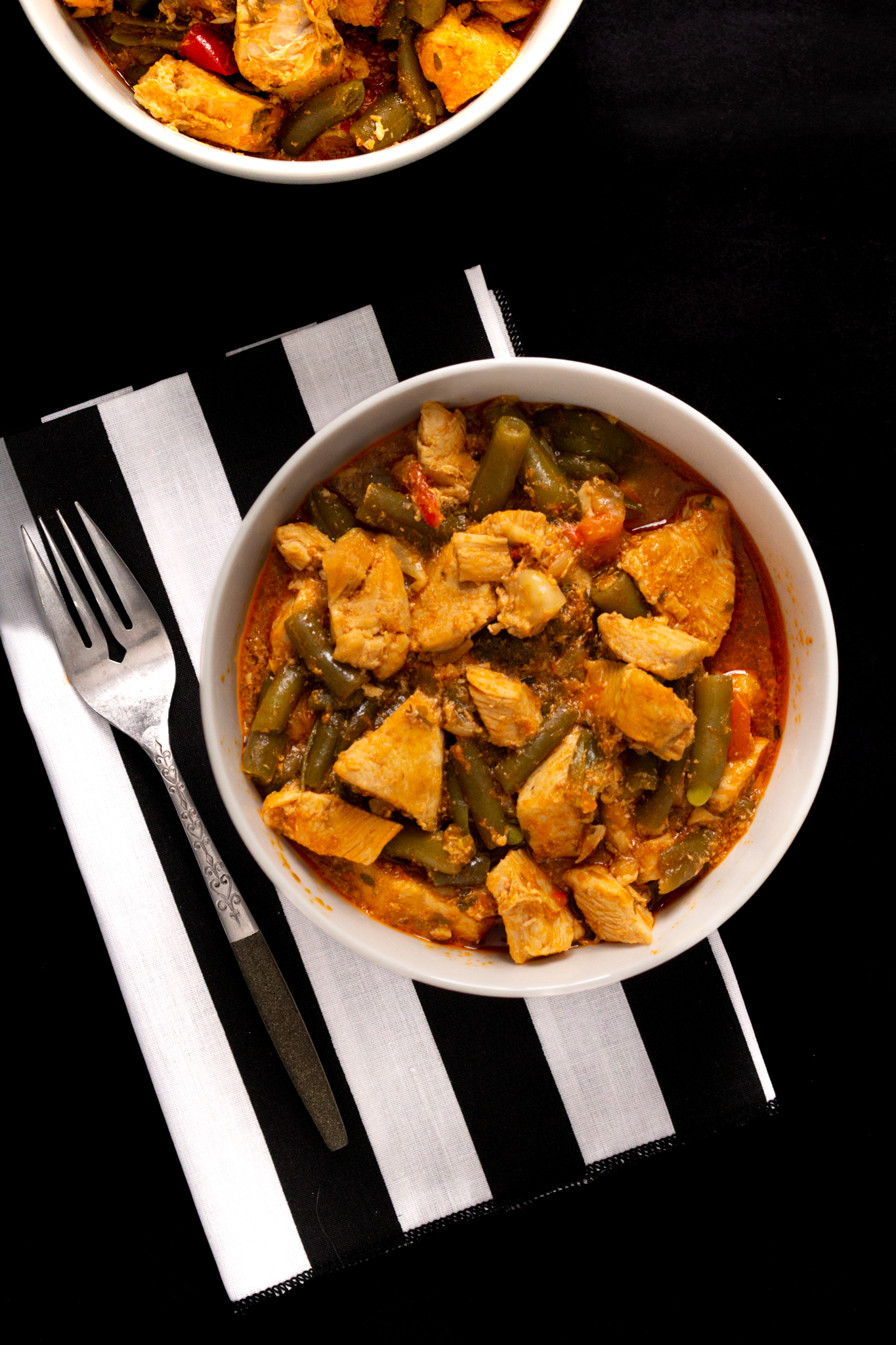 This chicken stew is special. It's an adaptation of the delicious and hardy chicken stew my grandmother always made for us during my childhood. If you like tender bites of chicken enveloped in a light tomatoey sauce, bursting with garden vegetables, and loaded with flavor, this is the recipe for you!
Yield: 5 servings
Serving size: 1 cup (383g)
Ingredients:
4 tbsp. (56g) extra virgin olive oil
2 lb. (907.18g) boneless skinless chicken breast, cut into bite-sized pieces
4 cloves garlic, minced
2 cups (258g) fresh/frozen cut green beans
2 cups (480g) unsalted chicken stock
3/4 a medium red bell pepper, chopped
1/2 cup (80g) chopped onion
2 tbsp. (30g) tomato paste
1 tsp. (0.5g) dried parsley
1/4tsp. (0.25g) dried thyme
Directions:
Heat two tablespoons of oil in a frying pan over medium heat. When the oil is hot, add the peppers to the pan, sprinkle them with a bit of salt, and sauté them for about a minute or so.
Add the onions, garlic, and tomato paste to the pan. Continue to cook, stirring continuously, until the tomato paste has blended with the vegetables and the onions are fragrant.
Transfer the peppers to a large saucepan or stewpot. Add the green beans to the pot and set aside for now.
Add the remaining oil to the frying pan and heat the oil as before. When the oil is hot, add the chicken to the pan and brown the chicken on all sides.
Add the browned chicken and all the liquid from the frying pan into the stew pot with the vegetables.
Add the chicken stock, parsley, and thyme to the stewpot.
Cover the pot and bring it to a simmer. Cook the stew for approximately 20 minutes or until the chicken is tender.
Uncover the pot and continue to simmer for another 25 minutes until the liquid has reduced by about half.
Season with salt and pepper to taste. Serve hot.