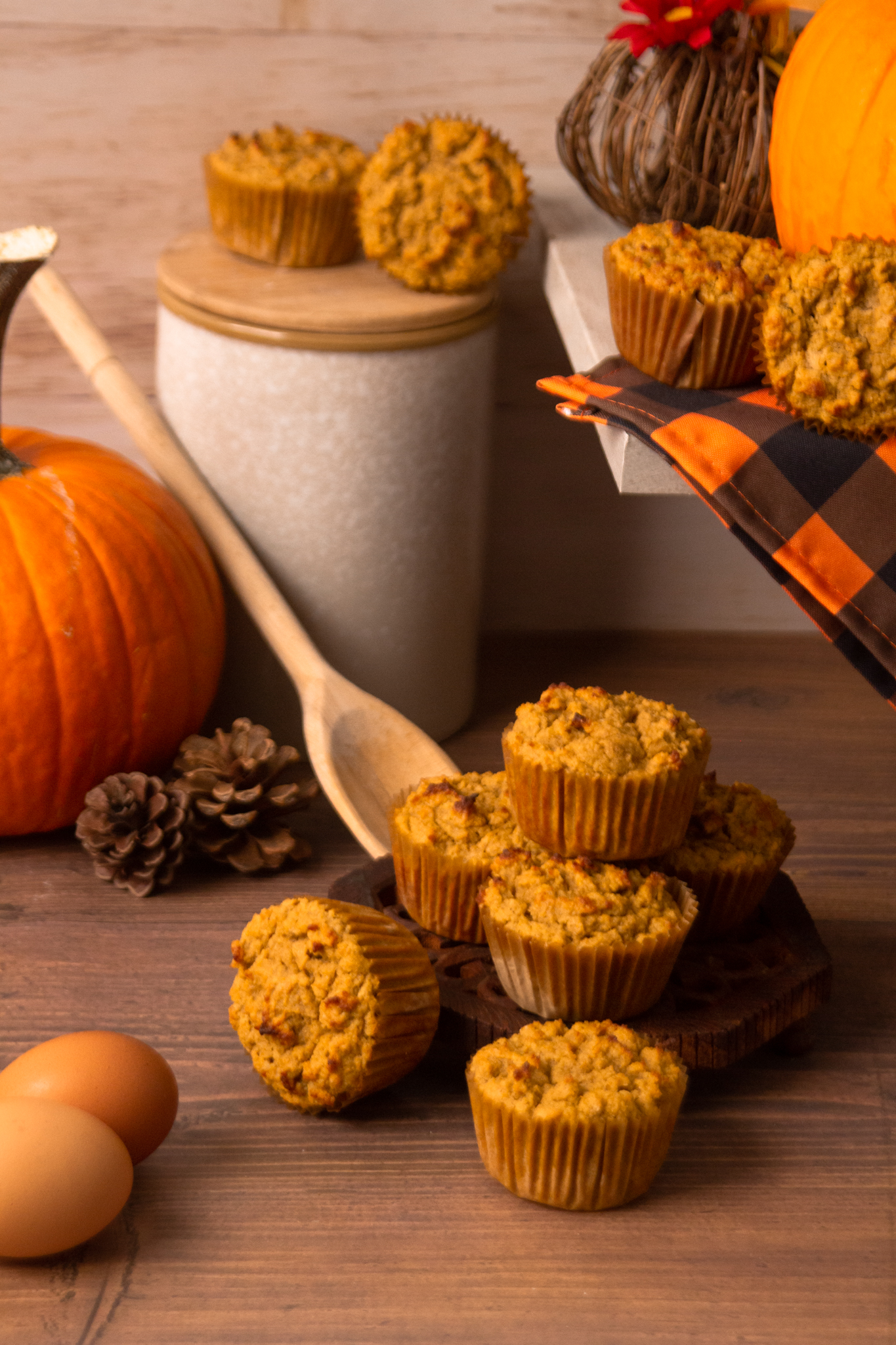 These moist, dense pumpkin muffins are so cozy and delicious! They have delightfully chewy, crisp muffin tops, and the sweetness of the pumpkin mingles perfectly with the warming flavors of cinnamon, allspice, and ginger. So, put on your fuzzy socks, wrap yourself in your favorite soft sweater, and enjoy this true fall classic.
Yield: 10 muffins
Serving size: 1 muffin
Ingredients:
3 tbsp. (42.6g) unsalted butter, softened
1/2 cup (96g) granular erythritol
1 tbsp. (15g) pure vanilla extract
6 large eggs
1/3 cup (80.52g) pumpkin puree
2 tbsp. (28.35g) heavy whipping cream
2 tbsp. (56.7g) water
1/2 cup (56g) coconut flour
1/2 tbsp. (7.2g) baking powder
1 tsp. (2.6g) ground cinnamon
1/4 tsp. (0.48g) ground allspice
1/8 tsp. (0.23g) ground ginger
1 pinch of salt
Directions:
Preheat the oven to 350 °F (180 °C) and line a muffin tin with paper liners.
Place the pumpkin, water, and cream into a small bowl. Using a fork, blend well to combine. Set aside.
Use an electric mixer to cream the butter, erythritol, and vanilla in a large bowl.
Add in the eggs, one at a time, beating well after each egg.
Add the previously set aside pumpkin mixture to the bowl and blend well.
In a separate bowl, combine the coconut flour, baking powder, cinnamon, allspice, ginger, and salt. Use a wire whisk to mix and break up any lumps.
Add the dry ingredients to the bowl with the wet ingredients and beat well to combine. Scrape the bowl down as needed.
Use a soup ladle or an ice cream scoop to distribute the batter evenly between 10 muffin cups.
Bake the muffins for about 3o minutes or until they are lightly golden brown, and a toothpick inserted into the center comes out clean.
Remove them from the oven and place them on a wire rack until they are cool enough to be handled.
Remove them from the pan and finish cooling on the rack.