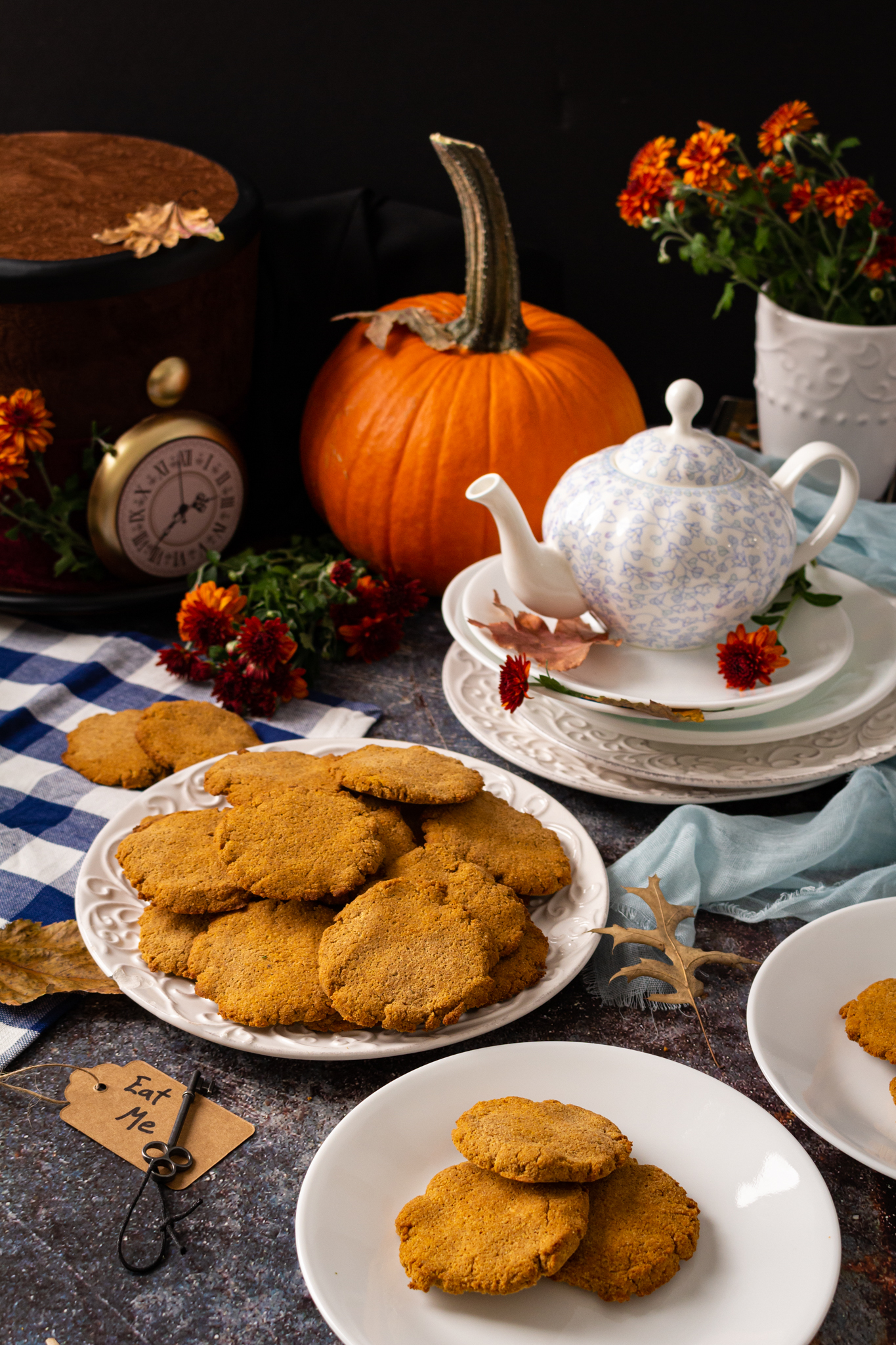 Don't be late! Hurry and make a batch of these delightful pumpkin snickerdoodles for your favorite group of friends. They will fill you with wonder because they have the perfect combination of cinnamon and nutmeg to give them that old-fashioned snickerdoodle taste. Now don't go losing your head! These cookies are so simple and quick to make that there's no need to go down any rabbit holes. Play your cards right and have a heart because everybody knows that no tea party or Halloween party is complete without them.
Yield: 26 cookies
Serving size: 1 cookie
Ingredients:
3 tbsp. (42g) unsalted butter, softened
1/2 cup + 2 tbsp. (108g) granular erythritol
1 1/2 tbsp. (22.5g) pure vanilla extract
1/4 tsp. (1g) pure maple extract
3 large eggs
1/3 cup (80.52g) pumpkin puree
3/4 cup (84g) coconut flour
1/2 tbsp. (3.9g) ground cinnamon
1/4 tsp. (0.55g) ground nutmeg
1/2 tsp. (2.3g) baking powder
1/2 tsp. (2.3g) baking soda
1/4 tsp. (1.5g) salt
Directions:
Preheat the oven to 350° F (180°C).
Line two cookie sheets with parchment paper.
Using an electric mixer, cream the butter, erythritol, and extracts in a large bowl.
Add in the eggs, one at a time, beating well after each egg.
Add in the pumpkin and mix again to incorporate.
Add the coconut flour, baking powder, spices, and salt to a separate bowl. Use a wire whisk to combine and break up any lumps.
Add the dry ingredients to the bowl with the wet ingredients and beat well to combine. Scrape the bowl down as needed.
Drop tablespoonfuls of dough onto the prepared cookie sheets, spacing them two inches (5.08 cm) apart.
Gently flatten each cookie to a thickness of about 1/4 inch (0.64 cm) with the heels and palms of your hand.
Bake the cookies in the center of the preheated oven for 15-17 minutes or until they are lightly golden brown.
Remove the pan from the oven and place it on a wire rack to cool.
Store the fully cooled cookies in a covered container in the refrigerator.