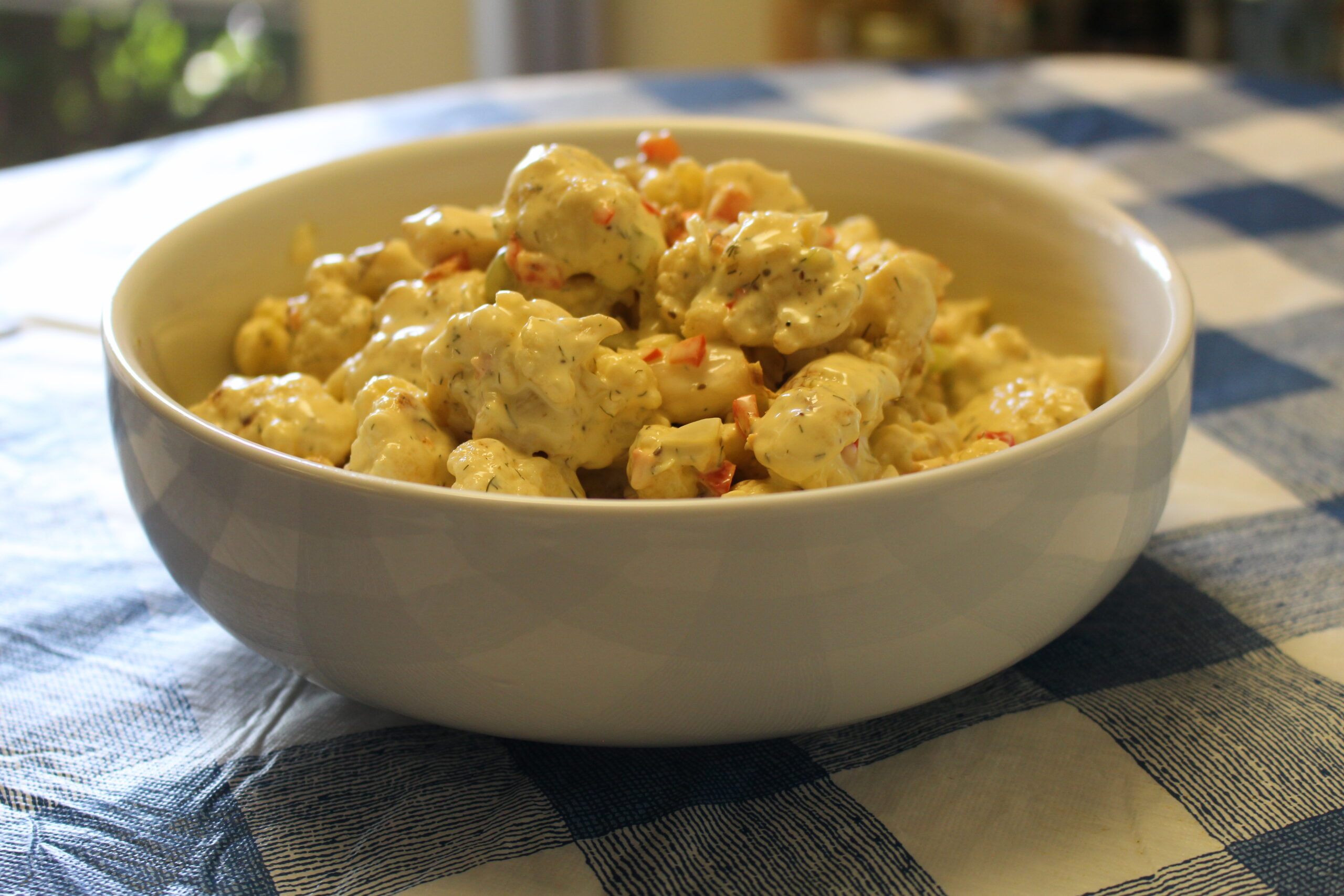 I love this Mock Potato Salad recipe, and I think you will too.
It's so good! It's satisfying, delicious, and much lower in carbs than traditionally made potato salad. This Salad's made with cauliflower, and it's the perfect guilt-free addition to all your summertime gatherings, barbecues, and picnics.
Yield: 4.5 cups
Serving size: 1/2 cup
Ingredients:
1 head of fresh cauliflower
1/4 bell pepper, minced
1/3 small onion, minced
1 small celery heart, minced
1/2 cup distilled white vinegar
1 tsp extra virgin olive oil
1 tbsp or to taste, natural, non-GMO granular erythritol
1/4 tsp salt (I used pink Himalayan)
1/4 tsp black pepper
1/2 tsp celery seed
1 cup mayonnaise
1 tsp dried dill weed
Directions:
Preheat the oven to 425° F
Line a baking sheet with aluminum foil, and coat it with cooking spray.
Wash the cauliflower under cold running water. Using a small knife, cut carefully around the stem to remove it. Remove any leaves, as well.
Using your hands, separate the cauliflower into small florets, about 1″ in size. Trim the stems into 1″ pieces, as well.
Lay the cauliflower in a single layer on the prepared baking sheet. Spray the cauliflower evenly with the cooking spray.
Place the baking sheet onto the center rack of the preheated oven. Roast the cauliflower for about 20 minutes, stirring after 10 minutes. Remove the cauliflower from the oven when it is fork-tender but not overly soft. It should be a little al dente.
While the cauliflower is roasting, place the vinegar, oil, sugar, salt, pepper, and celery seed into a small saucepan. Place the saucepan onto the stove and bring it to a boil.
Once the mixture comes to a boil, remove it from the heat, and cool to room temperature.
Place the warm cauliflower into a large bowl. Add in the rest of the vegetables.
Pour the cooled liquid from the saucepan over the vegetables in the bowl. Toss well to coat all the vegetables completely.
Let the mixture rest for about 15 minutes, occasionally mixing to keep everything nicely coated.
Pour off about 1/3 a cup of the liquid from the vegetables, and discard.
Add the mayonnaise and the dill to the vegetables in the bowl. Mix well to distribute evenly.
Cover your salad, and place in the refrigerator to chill overnight.
After your salad has chilled overnight, it's ready to be enjoyed!