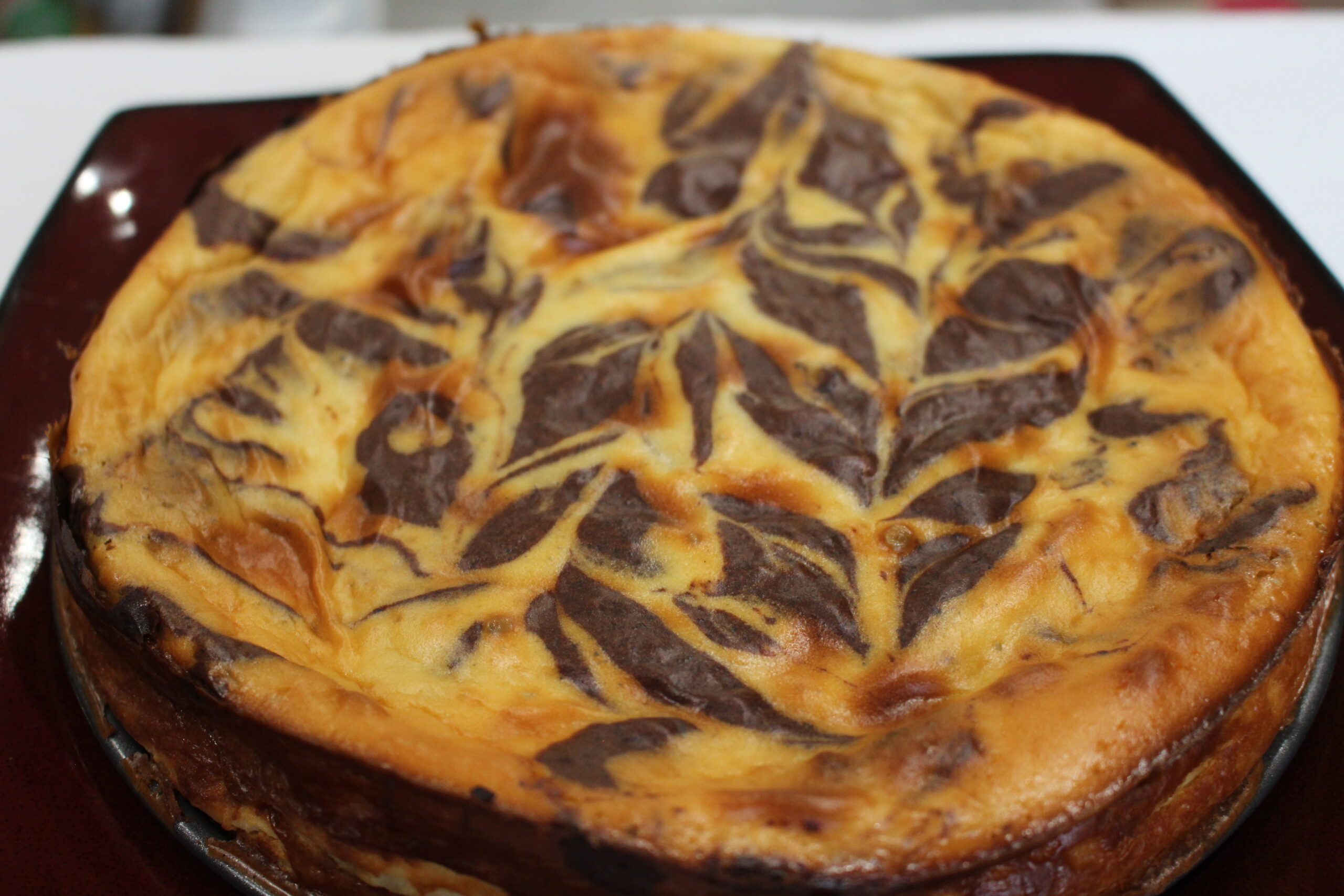 What could be a better dessert for Valentine's day than cheesecake? Chocolate Swirl Cheesecake, of course! This dessert marries creamy, rich vanilla cheesecake with an indulgently delicious chocolate cheesecake. It's the perfect combination, and it makes the whole house smell heavenly while it bakes.
Yield: 12 servings
Serving size: 1 slice
Ingredients:
Directions:
Preheat the oven to 325° F.
Butter a 9″ non-stick springform pan.
Place the softened cream cheese, sour cream, and a 1/2 cup of erythritol into a large bowl. Using an electric hand mixer, blend on medium speed until smooth.
Add in the eggs one at a time, blending on slow after each addition.
Add in the vanilla. Blend on slow.
Reserve 2 cups of the batter on the side. Pour all of the remaining batter into the prepared springform pan.
With your hands, break the bar of baker's chocolate into squares. Place the squares into a small microwaveable bowl. Microwave in 30-second intervals until the chocolate is almost completely melted. Mixing well with a spoon after each interval.
Continue to mix the mostly melted chocolate until it has completely melted and is smooth.
Pour the 2 cups of reserved batter and the melted chocolate into the original bowl. Using the electric hand mixer, blend on slow until completely incorporated and smooth. Add in the remaining 1 1/2 tsp. of erythritol, and blend on slow to incorporate.
Add spoonfuls of the chocolate batter onto the top of the batter in the springform pan. (See the photos below)
Run a butter knife through the batter to form a swirl effect. This is done by running the knife through the batter as if you were trying to cut thin slices and then small squares. Run the knife through vertically first, and then horizontally. (See the photos below)
Place the pan in the center of the preheated oven, and bake for 55-65 minutes until the center is almost set.
Remove from the oven and set on a cooling rack. Allow the cheesecake to cool for 15-20 minutes before releasing and removing the pan's sides.
When the cake is fully cooled, chill for at least 4 hours or overnight in the refrigerator.
Serve cold.