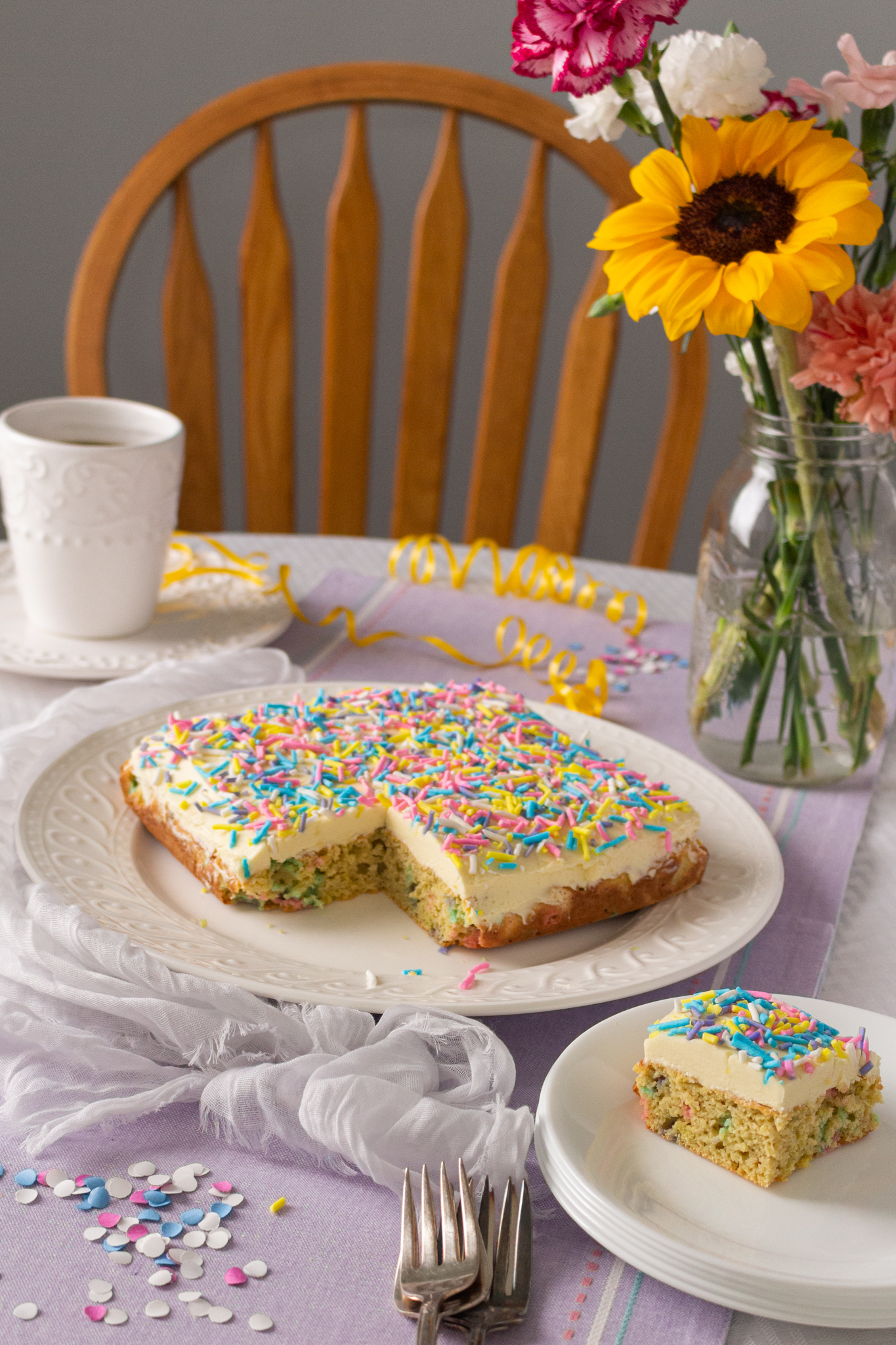 Moist vanilla cake, loaded with colorful sprinkles and topped with silky vanilla buttercream, makes this the perfect dessert for Easter, birthdays, or any time there's a reason to celebrate.
Yield: 9 pieces
Serving size: 1 piece
Cake Ingredients:
Frosting Ingredients:
Directions:
Preheat the oven to 350° F (180°C).
Line an 8″ (20.32 cm) square cake pan with parchment paper.
Using an electric mixer, cream the butter, erythritol, and vanilla in a large bowl.
Add in the eggs, one at a time, beating well after each egg.
Add in the cream and water. Blend well.
Add the coconut flour, baking powder, and salt to a separate bowl. Use a wire whisk to combine and break up any lumps.
Add the dry ingredients to the bowl with the wet ingredients, and beat well to combine. Scrape the bowl down as needed.
Carefully fold in the sprinkles.
Pour the batter into the prepared pan. Bake in the center of the preheated oven for approximately thirty minutes or until a toothpick inserted near the middle comes out dry and the cake springs back when pressed gently.
Cool the cake for 20 minutes, then remove the cake from the pan using the parchment paper to lift it out. Carefully peel down the sides of the paper and finish cooling the cake.
When the cake is completely cool, you are ready to frost it. Prepare the frosting as follows below.
In a bowl with a handheld electric mixer, beat the butter on medium speed until creamy.
Add the erythritol to the bowl. Set the mixer on low speed, and beat until fluffy.
Continuing on low, gradually add in the heavy cream and the vanilla, mixing until everything is combined.
Increase the speed on the mixer to the highest setting. Beat until the frosting is light and fluffy, scraping down the sides as needed.
Frost the top of the cake and decorate with as many or as few sprinkles as you like. I used about six tablespoons (81g) in the cake pictured above.