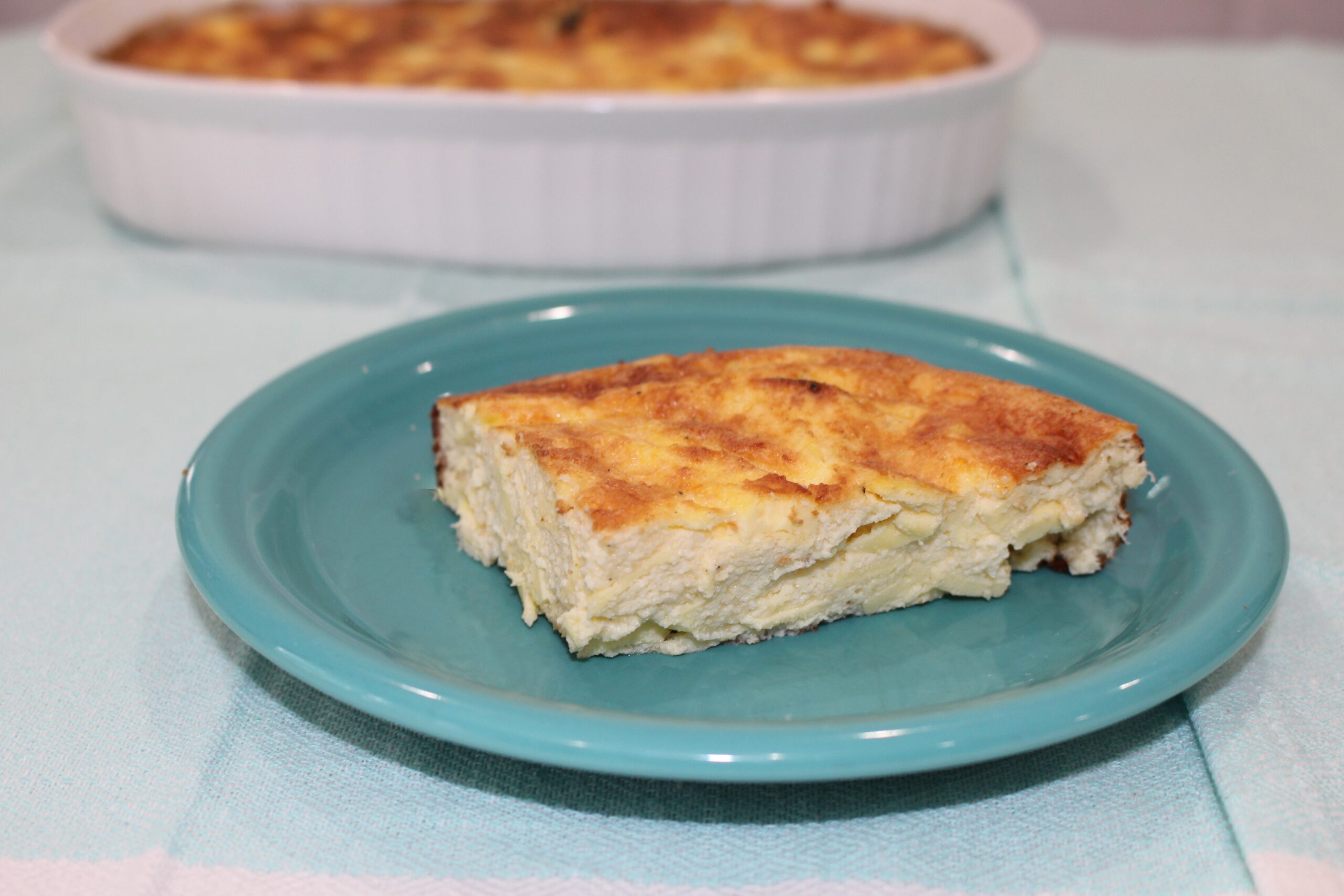 Some of my favorite childhood memories are of the times I spent with my cousins at my aunt Annie's home. My three older cousins were always more like siblings than cousins to me, and they kindly put up with me trailing them everywhere. My aunt Annie, who happens to be a wonderful cook, is always a lot of fun to be around, and is one of the kindest people I know. I still remember the wonderful dishes she would create with very simple ingredients, like egg noodles and Parmesan cheese. This recipe was inspired by those memories.
Yield: 8 servings
Serving size: 1 piece
Ingredients:
11 large eggs
7 oz cream cheese, softened
1 cup sour cream
1 1/4 cup grated Parmesan cheese
1/4 tsp. salt
1/8 tsp. black pepper
Directions:
Grease a 14.5″ x 11″ non-stick pan with butter, and preheat the oven to 325° F.
To make the noodles, place 6 of the eggs and 3 oz of the softened cream cheese into the bowl of a food processor that has been fitted with a steel blade. Blend until the mixture is smooth, for about 2 minutes.
Pour the batter evenly into the prepared pan. Bake in the center of the preheated oven for 10 minutes, or until the batter is just set and pulling away from the edges of the pan. Rotate the pan after 5 minutes to ensure even baking.
Remove the pan from the oven, and let cool on a wire rack for 5-10 minutes.
When the pasta is cool enough to handle, remove it from the pan and transfer it to a clean cutting surface. Use a pizza cutter or a sharp knife to cut the pasta into noodles that are approximately 3″ long and 1/2″ wide. Set aside for now.
Preheat the oven to 350° F, and grease a 1.9 quart/1.8 liter casserole dish with butter.
Place the remaining 5 eggs and 4 oz of cream cheese into a large bowl. Whisk well to combine.
Add in the remaining ingredients. Whisk well to combine.
Add the reserved noodles to the bowl. Toss gently to coat all of the noodles in the egg mixture.
Pour the noodles and egg mixture evenly into the prepared casserole dish, making sure to evenly distribute the noodles. Cover the casserole dish with a domed lid, or make a high tented lid with aluminum foil.
Bake in the center of the preheated oven for about 50-55 minutes, or until the casserole has fully set.
Remove the cover and bake for an additional 25 minutes or so, until the top is golden brown.
Enjoy warm or cold.