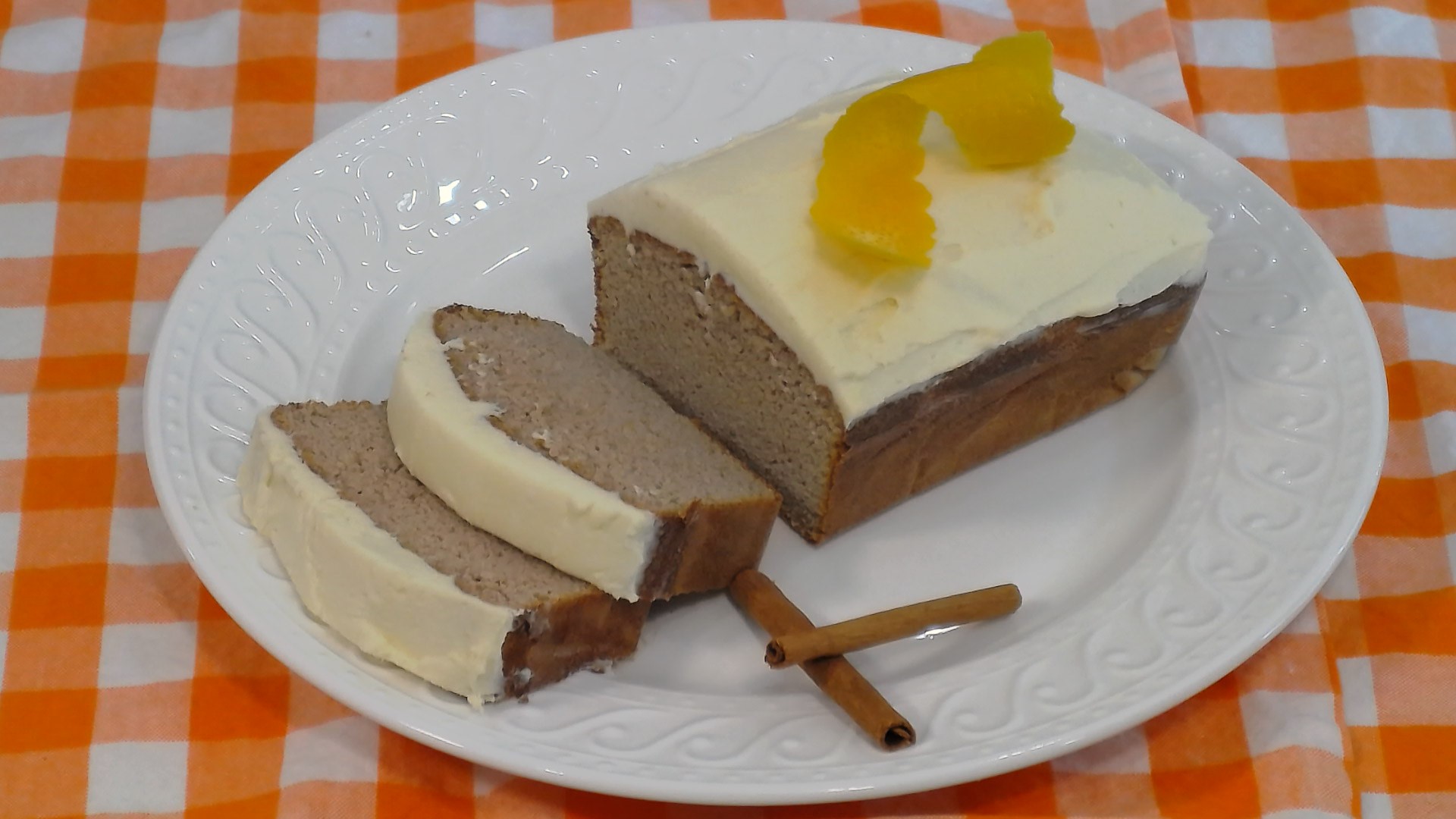 This recipe makes a really nice spice cake that I'm sure you'll love. The cake is tender, light, moist, and accented with the warm flavors of cinnamon, allspice, ginger, and orange peel. The cream cheese frosting is so good; it could probably be a dessert all by itself!
Yield: 9 slices
Serving size: 1 slice
Cake Ingredients:
6 large eggs
3 tbsp. (42.6g) unsalted butter, softened
4 oz. (113.4g) heavy whipping cream
2 oz. (59.2g) water
5 tbsp. (60g) natural, non-GMO granular erythritol
1 tbsp. (15g) pure vanilla extract
1/2 cup (56g) coconut flour
1/2 tbsp. (7.2g) baking powder
1 tsp. (2g) grated orange peel
1 tsp. (2.6) ground cinnamon
1/4 tsp. (0.48g) ground allspice
1/8 tsp. (0.22g) ground ginger
pinch of salt
Frosting Ingredients:
Directions to make the cake:
Preheat the oven to 350° F (180°C).
Line a loaf pan with parchment paper.
Using an electric mixer, cream the butter, erythritol, and vanilla in a large bowl.
Add in the eggs, one at a time, beating well after each egg.
Add in the orange peel, and mix again to incorporate.
Add in the cream and water. Blend well.
Add the coconut flour, baking powder, spices, and salt to a separate bowl. Use a wire whisk to combine and break up any lumps.
Add the dry ingredients to the bowl with the wet ingredients, and beat well to combine. Scrape the bowl down as needed.
Pour the batter into the prepared loaf pan. Bake in the center of the preheated oven for one hour or until a toothpick inserted near the middle comes out dry and the cake springs back when pressed gently.
Cool the cake for 20 minutes, then remove the cake from the pan using the parchment paper to lift it. Carefully peel down the sides of the paper and finish cooling the cake.
When the cake is completely cool, you are ready to frost it. Prepare the frosting as stated in the following steps.
Directions for the frosting:
Place 6oz. of softened cream cheese into a clean bowl. Using the electric mixer, whip until fluffy.
Add in the erythritol and the vanilla. Beat well to combine.
Add in the butter and whip on high until you have a fluffy frosting. Scrape down the bowl as needed.
To assemble the cake:
Place dollops of the frosting on top of the cake.
Using a metal spatula or a butter knife, spread the frosting evenly across the top of the cake. Only the top of the cake will be frosted.
Use your spatula or knife to clean up the edges of your cake for a nice presentation.
Enjoy!
Store any leftover cake in a covered container in the refrigerator.