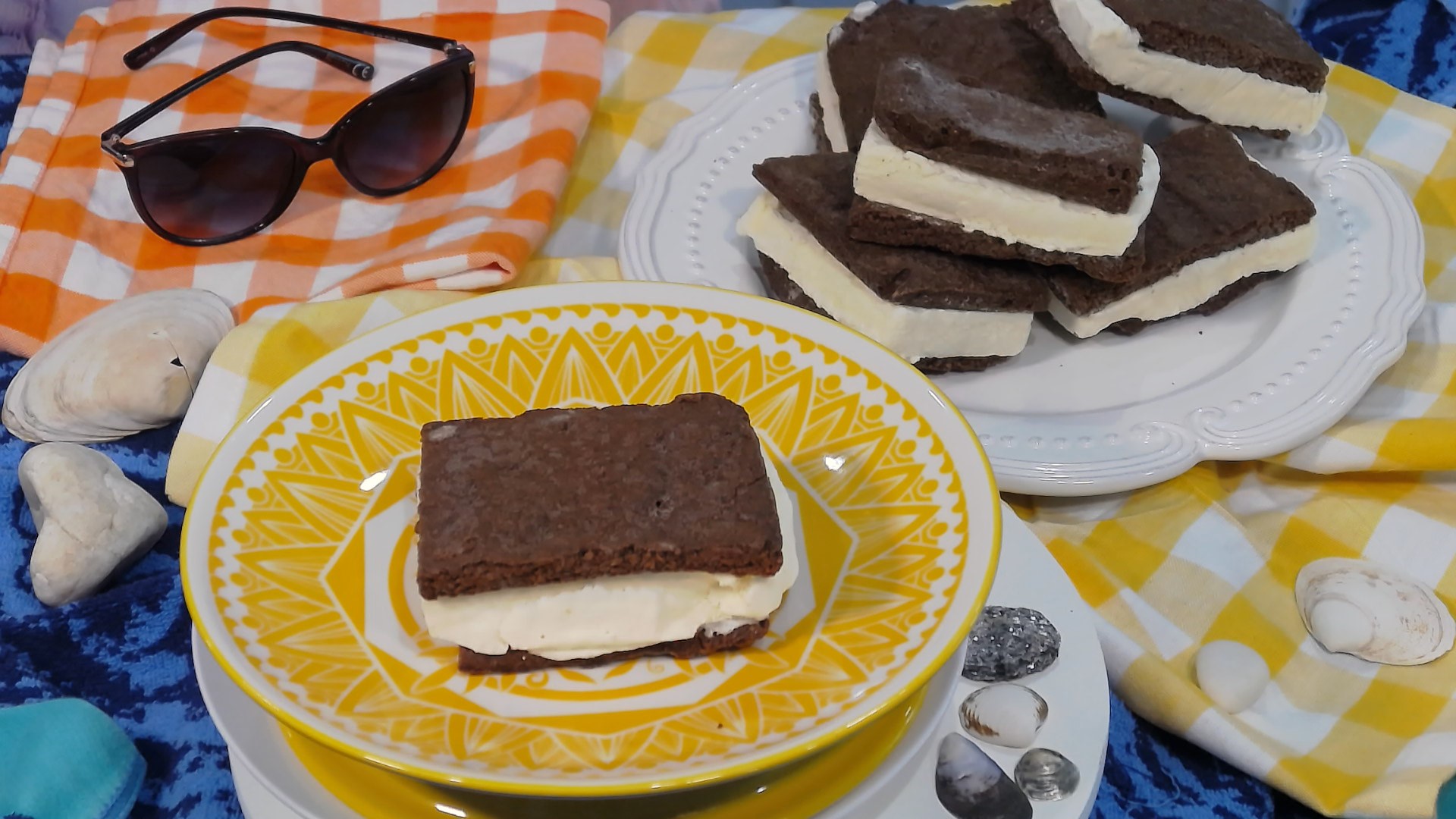 A generous helping of creamy, homemade vanilla ice cream sandwiched between two delectable chocolate brownies is what makes these ice cream sandwiches so special. Make this recipe so you can grab a delicious ice cream sandwich anytime you like and enjoy to your heart's content because, at only six carbs per serving, it's a summertime treat you can feel good about!
Yield: 6 Ice Cream Sandwiches
Serving size: 1 Ice Cream Sandwich
Ingredients:
Directions:
Preheat the oven to 350 °F (180 °C) and line two 8″x8″ (20.32 cm x 20.32 cm) baking pans with parchment paper.
Add the melted butter to a bowl.
Crack 3 large eggs into the bowl, add in the vanilla and the instant coffee. Whisk well to combine.
Add in the erythritol and whisk again.
Using a fine mesh strainer, sift the cocoa powder, almond flour, and salt into the pan. Whisk well to combine.
Get the prepared baking pans and add 1 cup of brownie batter to each one. Divide the remaining batter evenly between both pans.
Use a spoon to spread the batter evenly across the bottom of each pan. Paying special attention to the edges and corners.
Place the pans in the center of the preheated oven and bake for about ten minutes until a toothpick inserted near the center just comes out clean.
Cool the brownies for about 30 minutes, until completely cooled.
Remove 1 tray of brownies from the pan and invert them on to a cutting board. Remove the parchment paper.
Using a ruler to measure, cut the brownies down the center with a sharp knife. Next cut each half into thirds. Carefully place the cut sections onto a plate and repeat the process with the remaining tray of brownies.
When you've finished, cover the plate with plastic wrap or place the brownies into an airtight container, until they are needed.
Once again line an 8×8 baking pan with parchment paper.
Spoon 2 ½ cups of Old-Fashioned Vanilla Ice Cream into the pan.
Using the back of a spoon, spread the ice cream evenly across the bottom of the pan.
Freeze the ice cream for 1-2 hours, until it's solid enough to cut.
Once the ice cream is solid, arrange the brownies on a large plate or tray so they can be filled. Get the ice cream and using the parchment paper remove it from the pan.
Peel down the paper and slice the ice cream into bars, using the same method that we used to slice the brownies earlier.
Working quickly, use a spatula to place each ice cream bar onto a brownie and top it with another brownie.
Place the ice cream sandwiches into the freezer for an hour or so, until they're solid.
Wrap each sandwich in plastic wrap and return them to the freezer.
Enjoy!