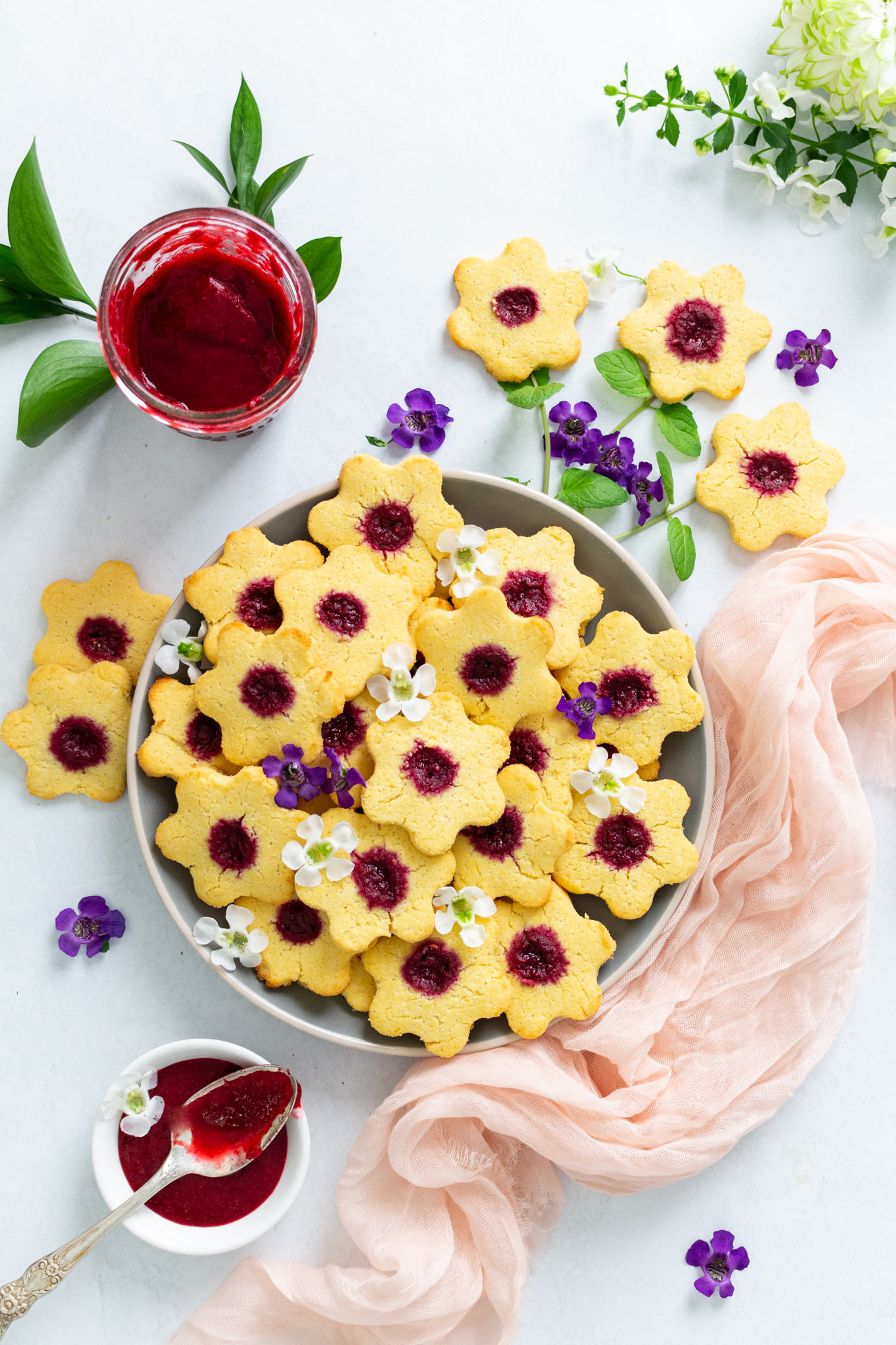 Say hello to your new favorite cookie!
Tender cheesecake cookies with raspberry jam hearts are what it's all about, and these tasty, delightful little cookies are only two carbs each. They're the perfect cookie to serve to guests, take to dinner parties, or swap during the holidays. Make and enjoy them anytime a sweet treat is in order!
Yield: 32 cookies
Serving size: 1 cookie
Ingredients:
5 oz (141.75g) cream cheese, softened
1/2 cup (96g) granular erythritol
1 tbsp. (15g)pure vanilla extract
2 large eggs
3/4 cup (84g) coconut flour
1 tsp. (4.6g) baking powder
1/4 tsp. (1.5g) salt
3 tbsp. raspberry jam (my sugar-free recipe)
Directions:
Preheat the oven to 350 °F (180 °C)
Place the cream cheese, vanilla, and erythritol into a medium bowl. Cream them together using an electric mixer.
Add the eggs to the bowl one at a time, beating after each addition.
Add the flour, baking soda, and salt to the bowl. Mix well with a spoon to combine.
Let the dough rest for 5 minutes. While the dough is resting, line two cookie sheets with parchment paper and prepare your work surface for rolling out the cookies. I like to use blue painter's tape to secure my parchment paper to my work surface. Doing this keeps the paper in place, making rolling out the dough much simpler.
Gather the dough into a ball. Break off a chunk of it to roll out, and wrap the rest in a piece of parchment paper to keep it from drying out.
Place the unwrapped portion of the dough onto the taped-down parchment.
Place another piece of parchment over the top, and using your hands, press down gently to flatten it out a bit.
Roll the dough to an even thickness of about one-quarter of an inch (0.64cm) using a rolling pin.
Remove the top sheet of paper.
Use a two-inch scalloped cookie cutter to cut out flower-shaped cookies and gingerly place each cookie onto the lined baking sheet, about a half-inch (1.25cm) apart.
Repeat this process with the rest of the dough, rerolling scraps as necessary.
Gently holding the edges with one hand, use the rounded handle end of a rubber spatula or your finger to make small indents in the center of each cookie. Each indentation should be approximately 3/4″ wide and 1/2″ deep (1.91cm wide and 1.27 cm deep).
Fill each cookie center with a rounded 1/8 tsp. (26.5g) of jam.
Bake in the center of the preheated oven for 17-18 minutes or until the edges of the cookies are a light golden brown.
Place the baked cookies on a wire cooling rack to cool completely.
Carefully remove the cooled cookies from the cookie sheet to your serving plate.
Store any leftover cookies in an airtight container in the refrigerator.