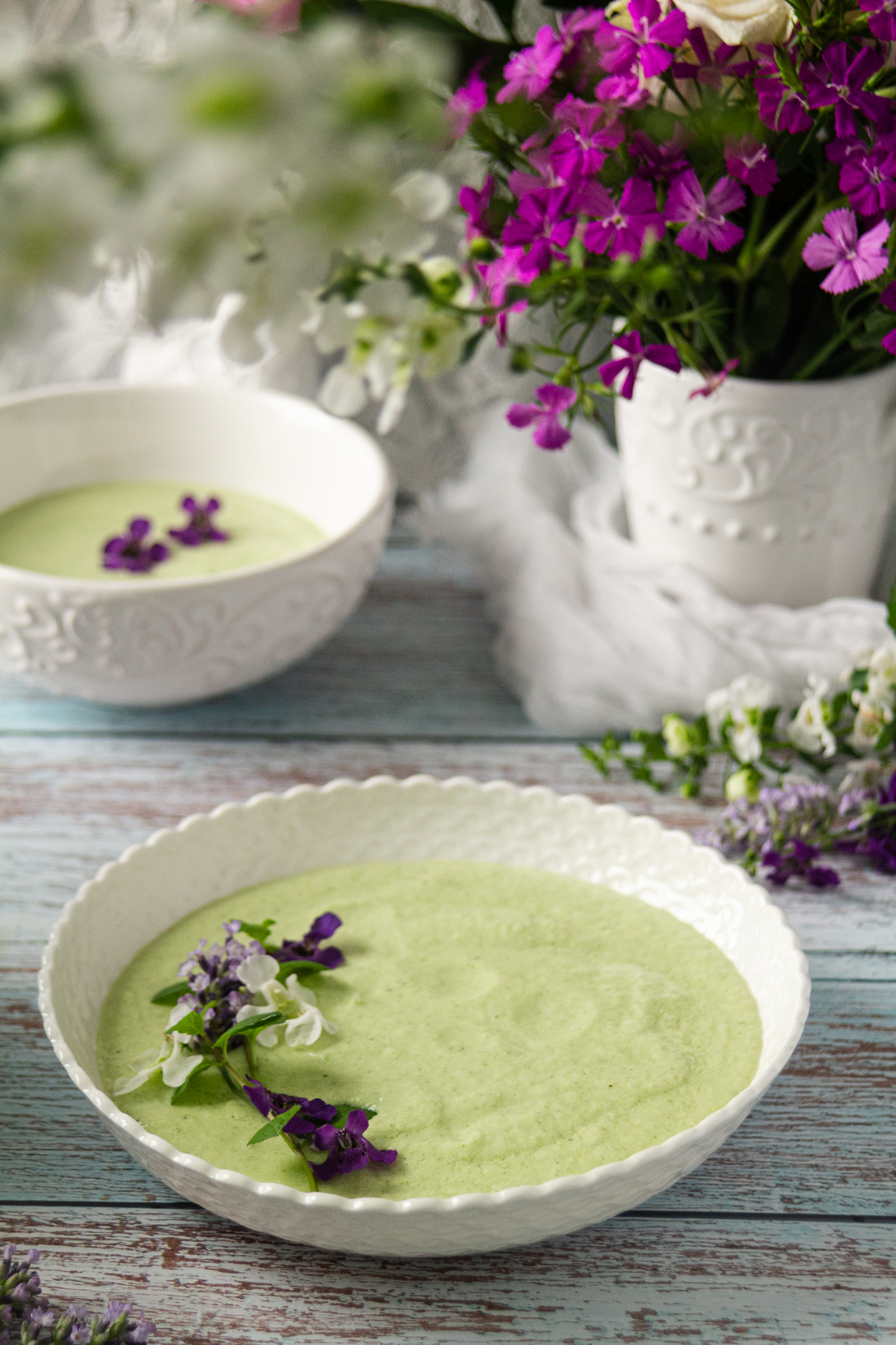 Cucumber Gazpacho is a mildly spicy cucumber that's soup served cold and is delightful on a hot summer day. If you like your gazpacho spicier add more jalapeño. If you like yours milder, use less jalapeño, or omit it altogether.
Yield: 5 cups
Serving size: 1 cup
Ingredients:
2.75 lb. (1,247.38g) cucumbers, about 5
1 cup (226.8g) plain, whole milk Greek yogurt
1/2 cup (115g) sour cream
2 stalks green onion, tops only
1 clove garlic
1/3 cup (294g) fresh dill, loosely packed
1/4 cup (4g) fresh cilantro
1/8 cup (3.2g) fresh mint
1 1/2 tbsp. (21g) extra virgin olive oil
1 1/2 tbsp. (22.5g) rice vinegar
1/2 jalapeño pepper
1 tsp. (6g) salt
1/4 tsp. (0.58g) ground black pepper
Optional garnishes: fresh chopped herbs, sliced green onion, jalapeño slices, edible flowers, crumbled bacon, diced cucumber, or red chili flakes.
Directions:
Peel the cucumbers and slice them into four long quarters.
Use a small spoon to remove the seeds by gently scraping them off.
Finely dice the cucumbers. Set aside.
Wash and chop the green onions and herbs. Peel and chop the garlic. Set them aside, too.
Wash the jalapeño. Cut it in half and remove the seeds with a small spoon, using the same technique as you did with the cucumbers.
Place all the ingredients into a blender, starting with the yogurt, sour cream, oil, and vinegar.
Cover and blend until smooth.
Place the blended mixture into a covered container and chill in the refrigerator for 8 hours or overnight.
Ladle the gazpacho into bowls to serve. Garnish with one or more of the optional garnishes listed above if you like.