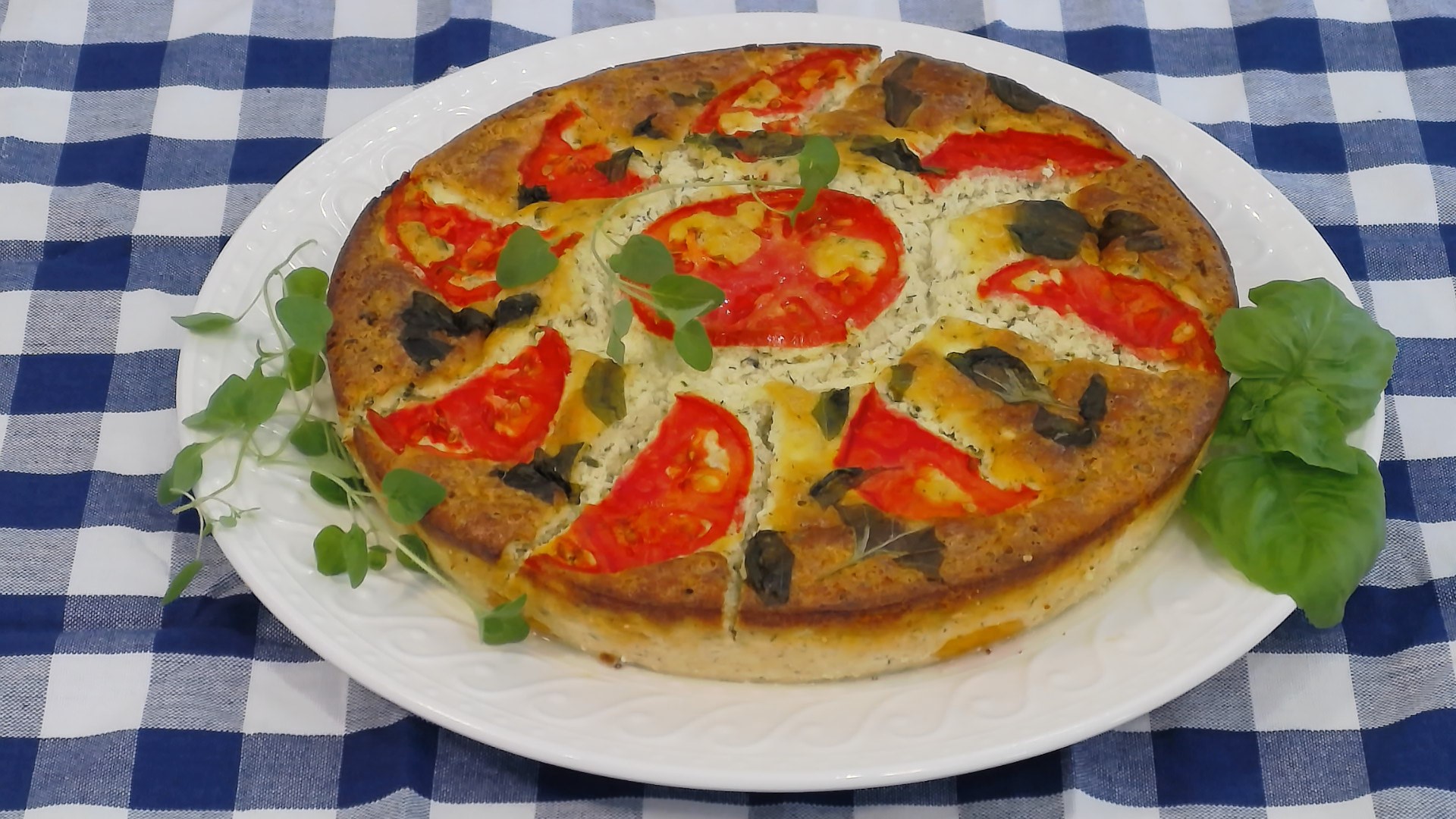 Savory Ricotta Cheesecake is a beautiful, cheesy, herby dish that will impress and delight your friends and family. It's as simple to make as it is delicious to eat and appealing to look at. Served warm or chilled, it makes a delightful side dish or entrée.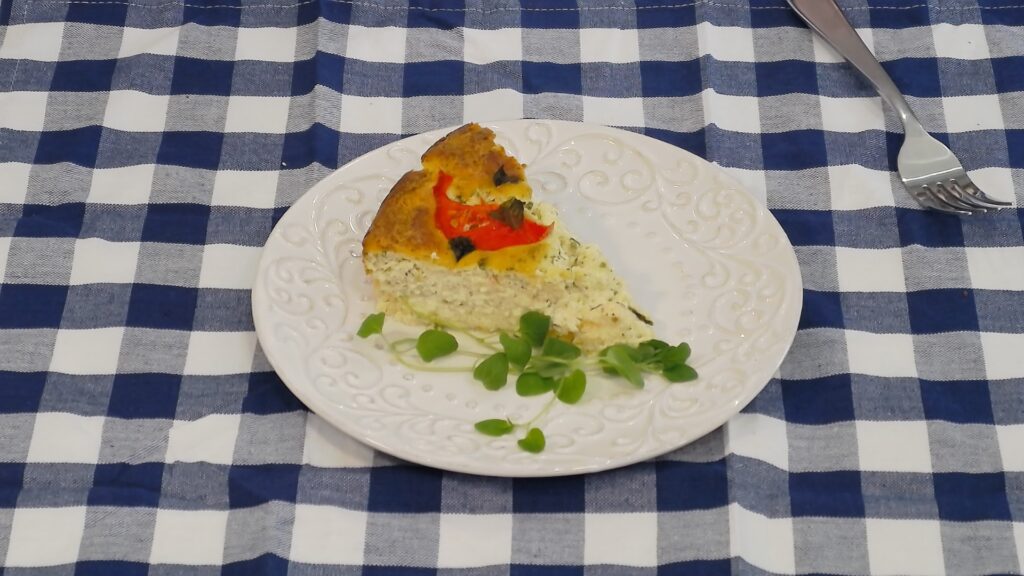 Yield: 8 servings
Serving size: 1 slice
Ingredients:
5 large eggs
1/2 tsp. (3g) salt
8oz (224g) mascarpone
4oz. (113.4g) soft goat cheese
1/2 cup (50g) freshly grated parmesan cheese
2 tsp. (.13g) freeze-dried chives
3/4 tsp. (53g) dried basil
1/2 tsp. dried oregano (.5g)
1 1/2 tsp. (1.55g) dried dillweed
1/2 tsp. (1.15g) ground black pepper
3 1/2 (861g) cups whole milk ricotta
4 oz. (113.4) whole milk mozzarella, cubed
5 oz (141.75g) cooked asparagus, chopped
5 thin slices of tomato
2 tsp. extra virgin olive oil
6 fresh basil leaves
Directions:
Preheat the oven to 350 °F (180 °C) and butter a 9-inch (22.86cm) springform pan.
Crack the eggs into a large bowl, and add in the salt.
Using an electric mixer, beat the eggs and salt until foamy.
Beating well after each addition, add the mascarpone, the goat cheese, and the parmesan to the bowl.
Add the herbs and spices to the bowl. Blend well to incorporate.
Using a rubber spatula, scrape down the bowl and fold in the ricotta cheese.
Add the mozzarella and mix well to combine.
Set the mixture on the side for now.
Place the asparagus in a single layer, across the bottom of the prepared pan.
Pour the cheesecake filling evenly over the asparagus.
Use a rubber spatula to smooth the top of the cake.
Center one slice of tomato on top of the cake. Cut the remaining 4 slices in half and arrange them in a sunburst pattern around the center slice.
Tear up the basil leaves with your fingers and sprinkle them between the tomato slices.
Drizzle the olive oil across the top.
Place the cheesecake on a lined baking sheet in the center of the preheated oven, and bake for 65-75 minutes or until it's golden around the edges and almost set. The center will still be a little jiggly when it's done.
Some of the moisture from the asparagus may seep out during cooling. Place your cooling rack into a baking pan just incase.
Cool the cheesecake on the cooling rack for 20 minutes.
Run a sharp knife around the inner rim of the pan, before carefully removing the sides of the pan.
This dish is delicious served warm, but my favorite way to enjoy it is to chill it in the refrigerator overnight and then slice and serve it cold the next day!