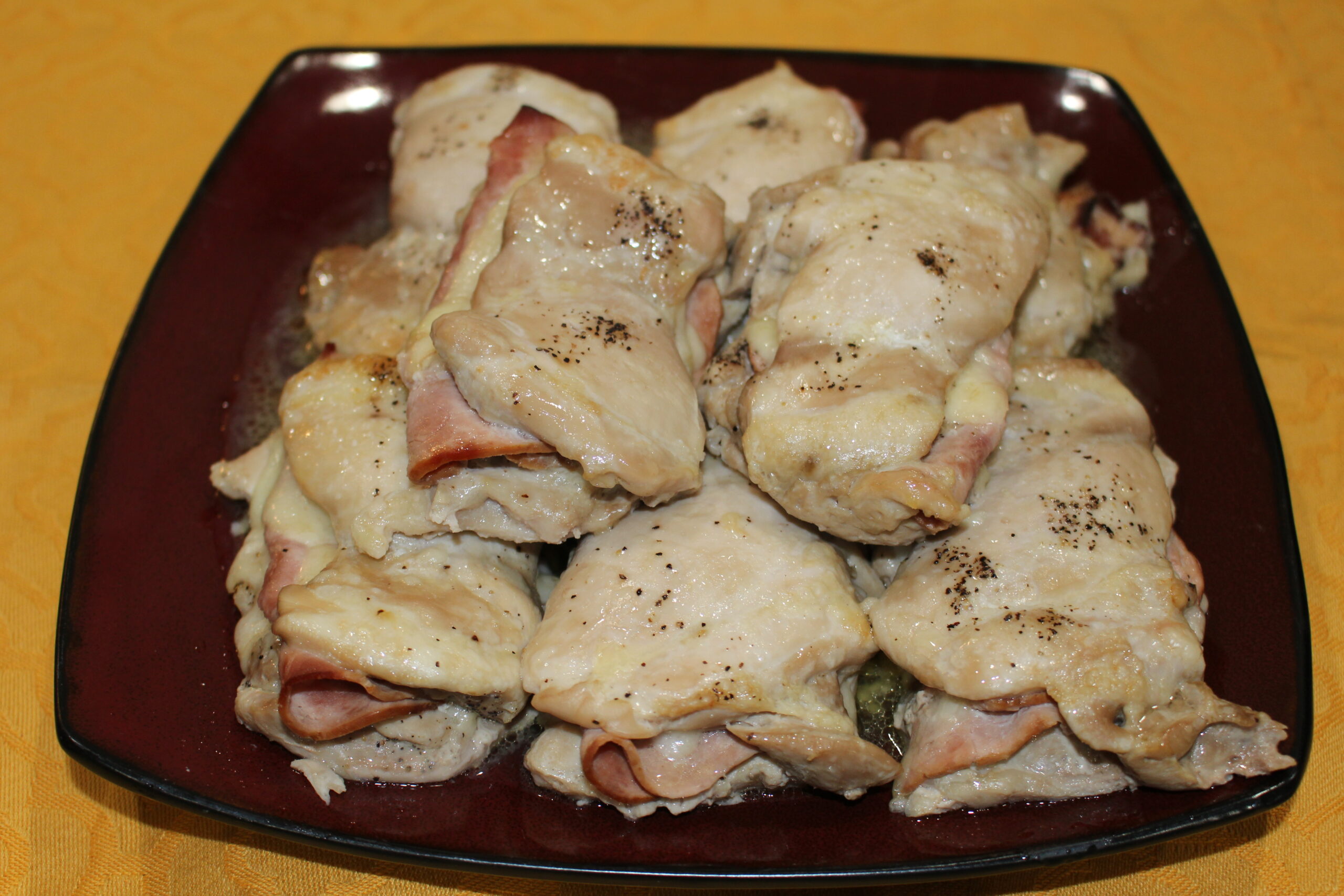 Here's another delicious dish that's really simple to put together quickly for a great family meal. It makes its own rich sauce as it cooks. It's a show stopper that your friends and family will absolutely love.
Yields: 8 portions
Serves: 4-6 people
Ingredients:
16 boneless skinless chicken thighs
8 slices of deli ham
8 slices of swiss cheese
2 oz. of salted butter, divided into 8 equal pieces
salt and pepper
Optional: grated Parmesan or Romano cheese
Optional: juice of one lemon
Directions:
Grease a 14.5″ x 11″ non-stick pan with butter, and preheat the oven to 400° F.
One by one, place the chicken thighs on a cutting board and pound them flat with a meat mallet.
Lay 8 of the flattened thighs side by side in the greased pan, and season them lightly with salt and pepper.
Top each seasoned thigh with a half a slice of swiss cheese, a folded over slice of ham, and another half a slice of cheese.
Place a second chicken thigh on top of each chicken, cheese, and ham stack to form 8 portions. Season again with salt and pepper to taste.
Place a piece of butter on top of each portion.
Pour the lemon juice, if you're using it, evenly over the top of the chicken portions.
Place the pan of thighs into the center of the preheated oven. and cook for about 30 minutes or until the internal temperature of the chicken reaches 165° F or higher.
Serve hot. Top each portion with some of the melted butter sauce, and some grated Parmesan or Romano cheese if desired.