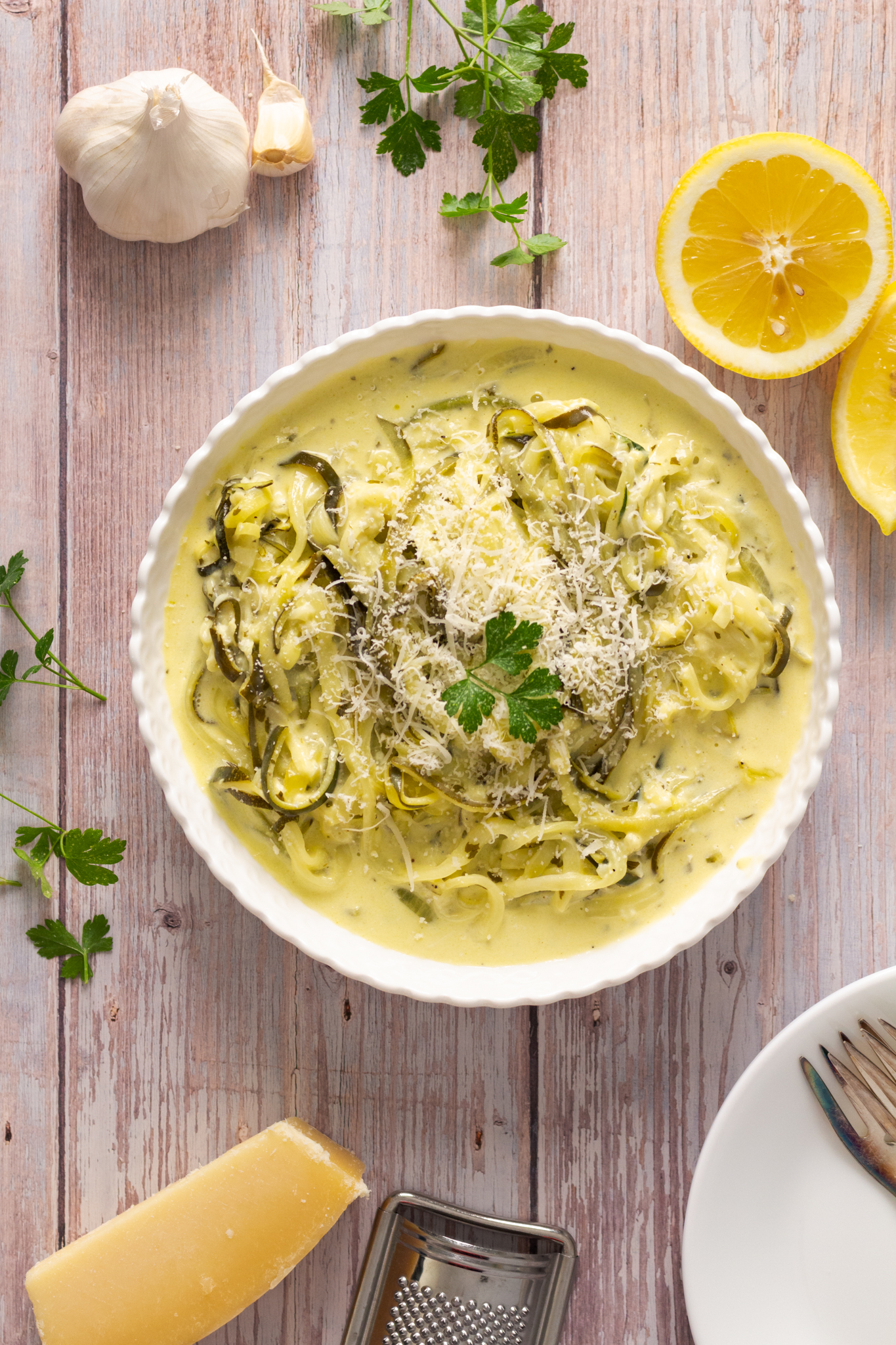 This easy-to-prepare, elegant side dish is a definite keeper! With Al dente zucchini noodles covered in a lusciously creamy, delicious lemon sauce, you'll want to make this dish again and again. At only five carbs per serving, you can elevate any meal into a fine dining experience and enjoy all the taste this yummy noodle dish offers at only a fraction of the carbs of more traditional pasta.
Yield: 5 servings
Serving size: 1/2 cup
Ingredients:
2 tbsp. (28g) extra virgin olive oil
1 large clove of garlic, minced
2 medium zucchini spiralized, or about 1 lb. (453.59g) fresh zucchini noodles.                   
1/4 cup (56.7g) lemon juice, freshly squeezed
1 cup (238g) heavy whipping cream
1 tbsp. (14.2g) unsalted butter
1 1/2 oz. (42.53g) parmesan cheese, freshly grated (about 3/4 cup or 177ml)
1 tsp. (0.5g) dried parsley
1/8 tsp. (0.29g) ground black pepper
Salt
Directions:
Sprinkle the zucchini noodles with a pinch or two of salt. (You can purchase fresh zucchini noodles in the produce department of most grocery stores or make your own using a home spiralizer.) Sauté them in a large, lidded frying pan with the minced garlic and the oil for about one minute. Mix and continuously toss the noodles in the oil with a pair of tongs as you sauté.


Cover the pan and continue to cook for another minute or so, occasionally mixing, until the zucchini is al dente.
Uncover the pan and add the remaining ingredients.
Cook for approximately 10 minutes uncovered, occasionally mixing, until the sauce thickens and is reduced by about half.
Serve hot. Garnish with fresh parsley and more cheese if desired.
Nutritional Information Per Serving:
Calories 260 * Total Fat 25g * Total Carbs 5g * Fiber <1g *Protein 5g