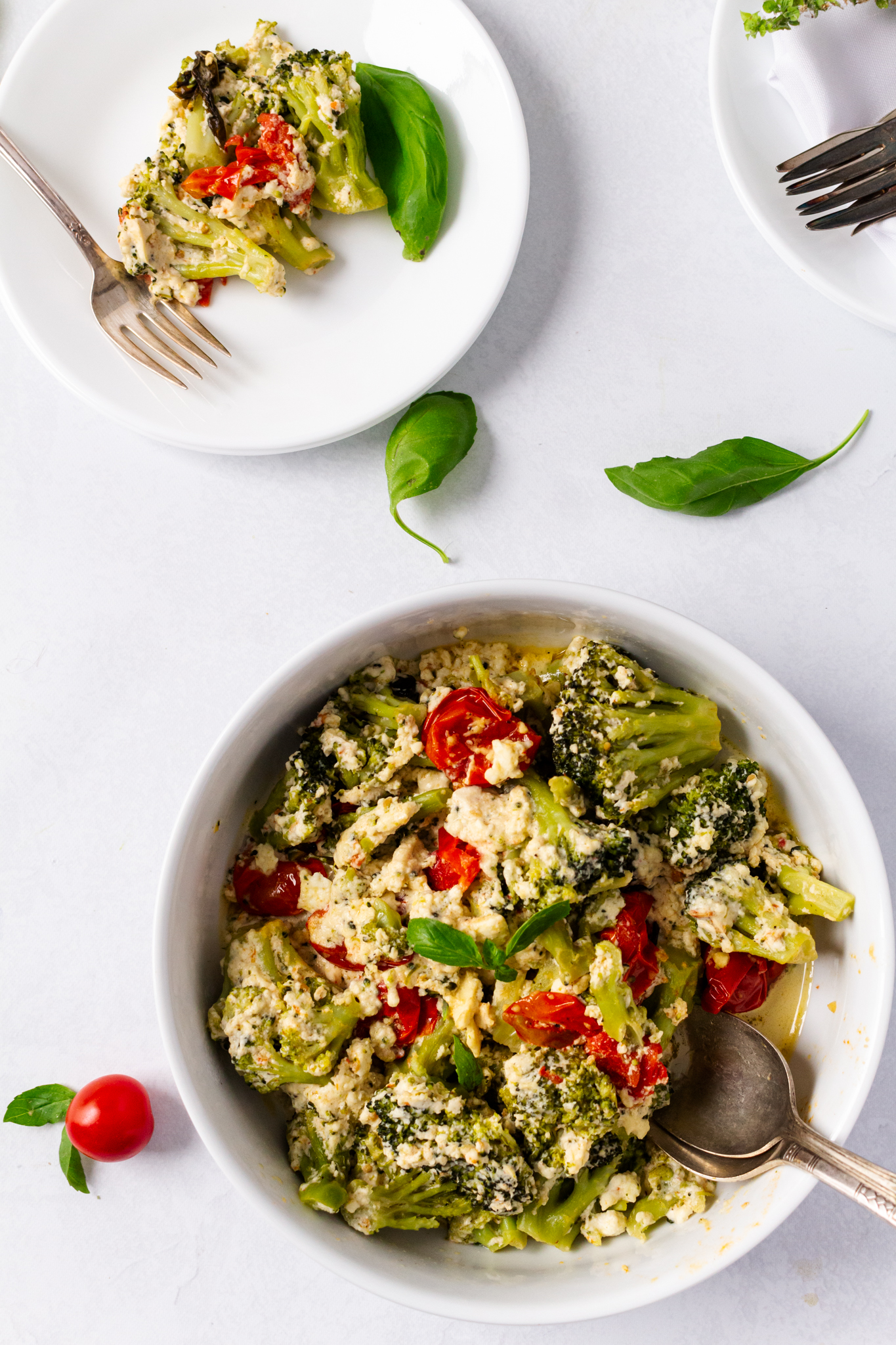 Add some pizzazz to any meal with this tasty Mediterranean-inspired side dish. You can have this on your table tonight with just a few easy steps and some simple ingredients.
Yield: 4 1/2 cups
Serving size: 1/2 cup
Ingredients:
3 tbsp. (42g) extra virgin olive oil
8 oz (226.8g) block of feta
1 lb. (453.59g) fresh or frozen broccoli florets
1 cup (149g) cherry tomatoes, rinsed and dried
5 basil leaves, rinsed, dried, and torn
1/8 tsp. (0.12g) dried oregano
1/8 tsp. (0.28g) ground black pepper
Directions:
Preheat the oven to 400°F (200°C)
Use one tablespoon of olive oil to coat a 2 1/2 quart (2.37 liter) casserole dish.
Place the tomatoes into the dish in a single layer.
Cut the block of feta in half to give you two pieces of approximately 3/4″x 1″ (1.91cm x 2.54cm) thickness.
Pushing aside some of the tomatoes, lay the feta in the center of the casserole dish next to the tomatoes. You may need to break one of the feta pieces in half to fit it all.
Drizzle the remaining two tablespoons of oil over the tomatoes and feta.
Sprinkle the basil, oregano, and black pepper over the top.
Place the dish in the oven to bake for 40-50 minutes, until the cheese is melted and golden brown on top.
Steam or boil and drain the broccoli during the last 10 minutes of baking the feta. The broccoli should still be hot when the feta comes out of the oven.
Pour the cooked broccoli on top of the baked feta and tomatoes. Toss well to combine.
For a creamy, hot side dish, serve immediately. For a lovely cold side dish, refrigerate and serve chilled.