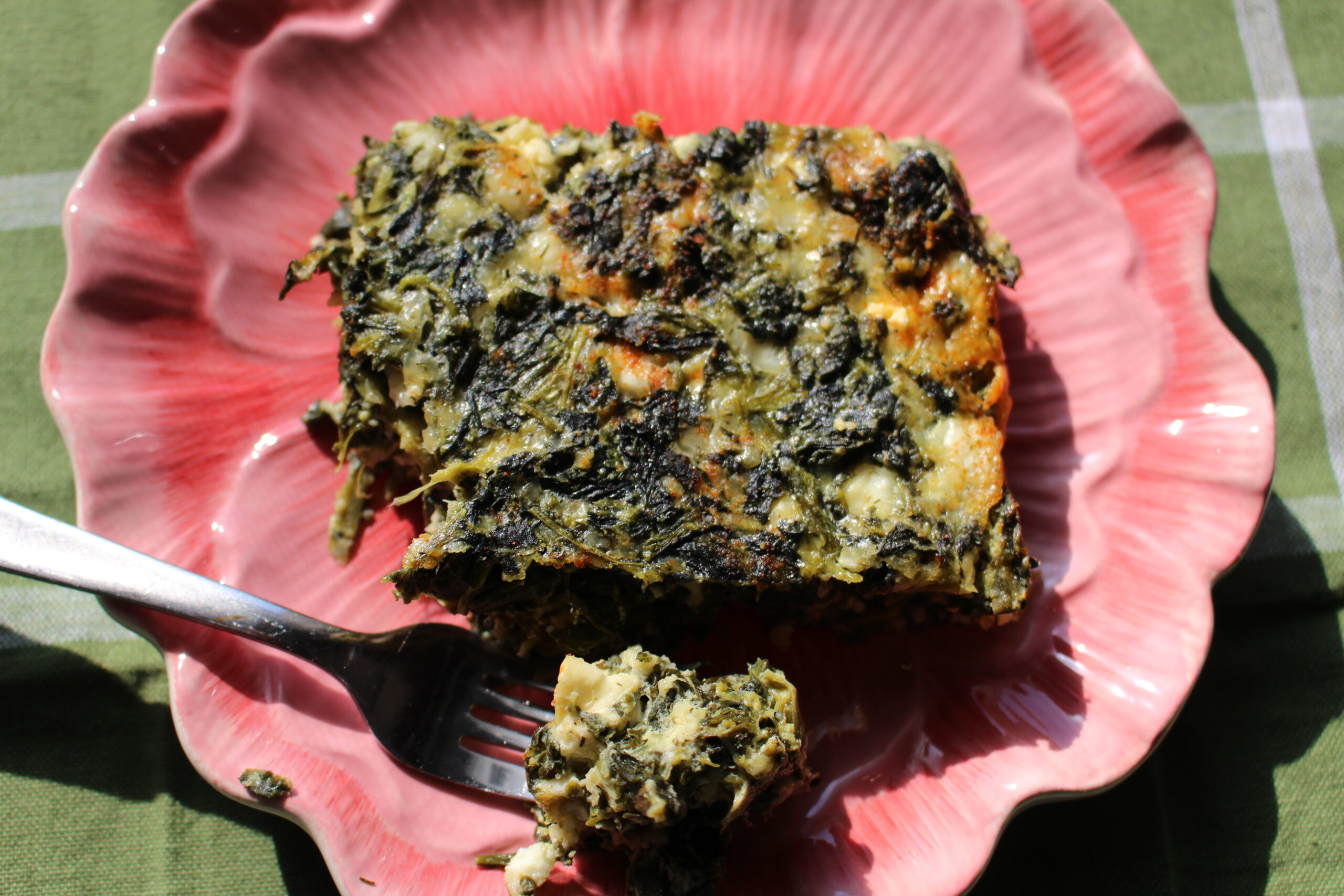 This recipe is a family favorite and various adaptations of it, have been handed down through many generations of my family. This version is my ketofied take on the classic Greek dish called spanakopita. In my family, this dish is often enjoyed with a small salad and some hardboiled eggs. It also makes a delicious side for chicken, lamb, beef, or fish.
Yield: 12 pieces
Serving size: 1 piece
Ingredients:
48 oz chopped frozen spinach
2 1/2 cup full fat cottage cheese
8 oz feta cheese, crumbled (I prefer goat's milk feta, but you can substitute cow's milk feta if it's all you can find)
3/4 cup grated kasseri cheese
3/4 cup grated parmesan cheese
4 large egg
2 tsp. onion powder
2 tsp. dried dill
1/2 tsp. dried oregano
1/2 tsp. black pepper
paprika
Directions:
Preheat the oven to 350° F.
Butter a 9″x13″ lasagna pan.
Cook the spinach per the directions on the package. Place a colander into the sink, and place the spinach into it. Rinse the spinach with cool water until it is cool enough to handle.
Take a handful of the cooled spinach. Repeatedly press the spinach between your hands, squeezing out as much water as you can. Place the spinach in a large bowl, and repeat until all of the spinach has been pressed dry and is in the bowl.
Add all the other ingredients, except for the paprika, to the bowl with the spinach. Mix well to incorporate.
Spoon the spinach mixture into the prepared lasagna pan. Sprinkle the top lightly with paprika.
Place the pan into the center of your preheated oven, and bake for about an hour or until the top is a lovely golden brown.
Serve warm or cold.